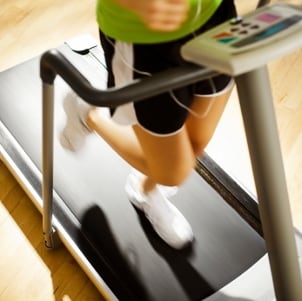 The treadmill is one of the most reliable, easy-to-use pieces of home gym equipment available. When you're choosing a treadmill, you'll need to think about whether you'll use it more for running or for walking, and you'll need to consdier how much space you have for it. Then, you can choose between one of the types of treadmills avaiable.
Types of Treadmills:

Manual treadmills: Non-motorized fitness machines have their advantages. For one, they are much lighter and easier to transport than motorized treadmills. Manual treadmills are also easier to fold up and store out of the way. It's a little more difficult to get the belt moving on a manual treadmill because your feet and legs are the motor. Many pieces of manual gym equipment do not have an adjustable incline. However, if you want an inexpensive home gym machine for light use, a manual treadmill would work fine for you.

Motorized treadmills: Horsepower, specifically continuous horsepower, is the most important aspect of any piece of motorized exercise equipment. A continuous horsepower rating of 1.5 to 2.5 is probably sufficient for most people's home fitness routines. However, if you plan to do a lot of running, you may want to go with a little bit more. A DC electric motor will run quieter than an AC motor; this is especially important if you like to watch TV while exercising.

Folding treadmills: If you want to save space but still workout on a motorized home gym machine, get a folding treadmill. After each workout, you can fold the platform up so the whole machine stands vertical, occupying less space. You'll want to know if the exercise equipment uses hydraulic cylinders to make folding easier. If not, folding the treadmill each day might become the biggest part of your workout. Think about whether or not you will be moving the treadmill around much after you fold it up. Supposing you plan on pushing it into the corner or storing it in a closet, something with a good set of sturdy wheels -- preferably wheels that don't make contact with the floor until the treadmill is folded -- would be a must.
Treadmill Buying Tips:

A stable running platform and good motor are a must for the jogger who trains on a treadmill. Choose a treadmill with at least 2.25 continuous horsepower. If you select a folding treadmill, make sure it is heavy and durable.

Belt size will make a difference in your workout. Make sure you get something wide enough and long enough for you to have a comfortable workout.

A pulse meter can be a valuable tool to help you monitor your progress. Grip pulse monitors on the treadmill frame are the easiest to use since you don't have to worry about any wires getting in the way.

Note how high an incline you can set. An inclining belt adds resistance to the workout, which helps you build and maintain muscle tone.

Buy Treadmills
Back to Guides Directory