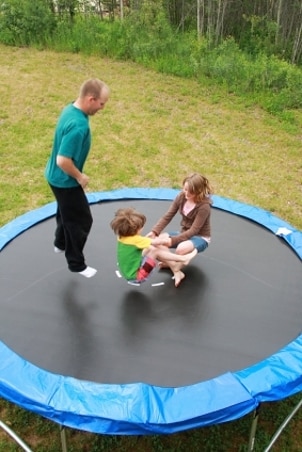 Trampolines are a fun, simple way to play and get exercise at the same time. You can start having fun on a trampoline as soon as it's assembled, but the more time you spend on your trampoline, the more interesting tricks you can perform. And, although they are fairly simple to use, there still are some things to consider about using your trampoline.
Frequently Asked Questions:

How big are trampolines?
That depends on whether you are referring to mini-trampolines or outdoor trampolines. Mini-trampolines are about three feet in diameter and 6 to 12 inches high. Larger, outdoor trampolines are usually 8 to 15 feet in diameter and a few feet high.

Is it difficult to assemble a trampoline?
No, trampoline assembly is fairly easy. Just be sure to follow the instructions, especially when it comes time to attach the trampoline's bed surface to the frame. For outdoor trampolines it will be nice to have a second person to help maneuver the larger pieces.

Where should I put my trampoline?
Trampoline placement is very important. The most obvious consideration should be clearance above the trampoline. You won't want anything above it. But you also want to be sure there is a safe area around the trampoline. If you have a smaller space for a trampoline, you'll definitely want to get a trampoline enclosure. A level surface is also important to have under your trampoline.

What sort of tricks can be done on a trampoline?
An almost endless variety of tricks can be performed on trampolines. In fact, many gymnasts and extreme athletes practice their flips and twists on trampolines. Jumping on a trampoline is a great way to work on body control while in the air. But a trampoline enclosure is a necessity if you are going to be doing tricks on your trampoline.

Do people exercise on trampolines?
Yes. Actually everyone who bounces on a trampoline is getting exercise, but there are a lot of people who exercise on trampolines with more intent on fitness. Mini-trampolines, or rebounders as they are also called, are ideal for people looking to get a good aerobic workout while limiting the impact on the body's joints.

Buy Trampolines
Back to Guides Directory