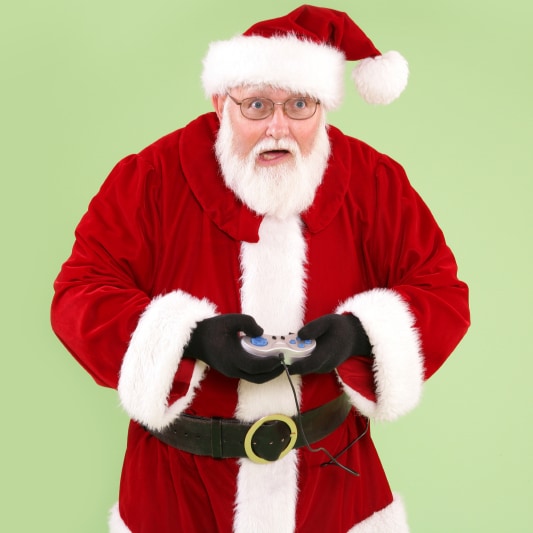 Top Video Games for Christmas 2014
Give your kids what they really want this Christmas with one of these top video games. The best games will not only entertain your children for hours on end, but they'll also help educate and even improve motor skills. Whether you have an Xbox One, PlayStation 4, or Nintendo Wii U, these are the games your kids will be asking for this Christmas.
Get Up and Move
Loved by children and applauded by parents, new interactive video games make use of the players' own body movements to control game play. This is done through the use of cameras connected to game consoles such as the Xbox Kinect, the Sony PlayStation camera, or Nintendo Wii sensor bar. This encourages kids to get off the couch and get moving with games that let them dance, run, and even do entire workout routines.
Portable Games
For younger children, nothing is better than having your own personal gaming system. Nintendo DS, PlayStation Vita, and Nintendo 3DS XL are small but powerful devices that kids can take with them in the car or slip into their backpack anywhere they go. The portable Nintendo DS systems will give your kids all the must have classic video games, like Mario, Zelda, and Pokémon. The PlayStation Vita gives you updated games like the "LEGO Movie Videogame," "FIFA 14," and the Ninjago games.
Puzzles and Sandbox
Puzzles and open sandbox games are great to let your kids explore new worlds and put their creativity to use. "Minecraft" is among the most popular sandbox games. Kids can build endless structures and explore open-ended worlds. Puzzle games, like "Brain Age: Concentration Training" for the Nintendo DS or "Portal 2" for the PS3, will stretch the brain even further with hundreds of evolving puzzles.
Action and Adventure
Some of the most popular video games among teens and young adults are first person shooters, like "Call of Duty: Ghosts," or adventure games, like "The Last of Us." These games pride themselves on cutting-edge graphics and constant excitement. Many of these games can also be played online with friends and family; try buying two copies to keep playing even after the holidays are done and out-of-town relatives have returned home.
Driving and Sports
"Mario Kart 8" for the Nintendo Wii U is sure to be a big hit this holiday season. Building on past popularity, it has a lot of what people have loved in the Mario Kart series, along with the addition of new cars and drivers. Sports games are always popular and enjoyable for the whole family. This year, look for new releases of classic sports titles, including "Madden NFL 15," "FIFA 15," and "NBA 2K15." Each will have the latest teams, players, and music.
Update Your Console
Don't see any of the video games your kids are asking for? It might be time to upgrade your console. The newest generation of video game systems, which includes the Xbox One, PlayStation 4, and Nintendo Wii U, will make a great gift that can be enjoyed for years to come. These new consoles will also help update your home entertainment system with a new way to watch streaming movies, browse the Web, and even video chat with your family.
what shoppers are saying about video games at overstock™
Related product reviews

Durable and versatile

VERIFIED PURCHASE

I purchased this chair 6 years ago for my daughter to use as a desk chair for homework. When she left for college she had no space for a personal desk chair in her residence hall room. Her brother commandeered the chair for video-game playing purposes. For four years he has spent anywhere from 2 to 16 hours per day in this chair. As one of the top hundred or so online players, his game play is far from sedentary--he swivels, spins, rocks back and forth, and otherwise puts the chair through its motions. It has survived this abuse without a problem. Recently I have been looking to replace my desk chair. After hours of research and ordering 2 different unsatisfactory chairs, my son suggested that I look up my order history and get another one.

Would you recommend this to a friend? YES

Nice picture, light-weight video camera

VERIFIED PURCHASE

I bought this camera to replace one that had quit working. I was suprised by how light-weight it is. I record my son's ice-hockey games and my daughters horse shows and am very pleased with the quality of the video. This is a nice, inexpensive camera that is easy to use.

Would you recommend this to a friend? YES

TV Stand

I'm currently using this as a TV stand and I love it! It is surprisingly sturdy. I was afraid to find a stand for a good price but it not being able to hold our TV. The shelves are also perfect for little decor, video games, movies, etc. This is placed in our game room and so far with my kids it has held up well with no damage. Assembling it was also very straight forward.

Would you recommend this to a friend? YES

great

VERIFIED PURCHASE

its a video game that speaks for itself. explicit language in there though, but funny.

Would you recommend this to a friend? YES

happy with it

VERIFIED PURCHASE

I like this piece! Pricing is decent when shipping is factored in. It is low, I use it in a kids rec room, vinyl holds up to the dogs nails. I have slept on it when the better half was sick... It's an average futon of comfort. The adjustable back is gimmicky, up or down... Tilt is awkward. Paired with a low ottoman, the kids play video games with the feet up.

Would you recommend this to a friend? YES

I NEVER GOT THE VIDEO GAME ON THE FIRST ORDER

VERIFIED PURCHASE

I PLACE THE ORDER ON OCTOBER 16 FOR MY BROTHER'S BIRHTDAY AND ALMOST 3 WEEKS LATER NEVER GOT THE ITEM. THEN I CONTACT OVERSTOCK AND THEY PLACED ANOTHER ORDER. THAT ONE CAME 5 DAYS LATER. SO, IF PEOPLE IS BUYING EXPECTING THE MERCHANDISE TO ARRIVE ON TIME. I DO NOT RECOMEND IT!

Would you recommend this to a friend? NO

atlantic game stand

VERIFIED PURCHASE

Organized. ought This for My Son & HE Likes It. I Think It's Great For Kids Who Play Video Games& Have TheM All Over ThE Place. Helps Keep Them OrginiZed.

Would you recommend this to a friend? YES

Vibrant, protective, and useful

VERIFIED PURCHASE

This case is great! While it protects the corners of the phone as well as the face with the deep set cover edges. The back stand is great for game playing and video watching. The only issue I have is the cover seems to limit the amount of sound from the microphone during speaker calls.

Would you recommend this to a friend? YES

Headboard is perfect for my teen with the shelves

VERIFIED PURCHASE

The delivery was perfect. However, the headboard did not have precut holes for either full/queen to be attached to bed frame so we had to drill them. It just would have been easier if holes had already been made while manufacturing it. Other than that, the shelves hold alot ...all my teens video games, books etc that would otherwise require a bookcase and take up more space in his bedroom.

Would you recommend this to a friend? YES

Piece of Junk

VERIFIED PURCHASE

Your basic made in China *** . Out of the box the height adjustment lever didn't work, thought about returning it but it was just for my son to play his video games and he didn't care. So, there you have it, if you want something that actually works from day one go to *********

Would you recommend this to a friend? NO

Perfect for my game room!

VERIFIED PURCHASE

Ordered this for a room with video games and pinball machines. It fits right in, nice size and puts out a fair amount of light. I'm not sure what other reviewers meant by screws not lining up, it required no tools at all just place the pole in the base and the top rod to the table. Perhaps they changed how it shipped but it couldn't be easier. I think the table could be a little thicker but for its purpose it should be fine. Overall very pleased.

Would you recommend this to a friend? YES

Beautifully detailed piece of furniture.

VERIFIED PURCHASE

I love this piece of furniture! We were looking for something to put the TV on and house movies, video gaming equipment, etc. It is a large piece of furniture with lovely details, but does not overpower the room. It was just the right size for us!

Would you recommend this to a friend? YES

Really like this product!

VERIFIED PURCHASE

My wife, two teenage boys, and I have started using the Adidas speed resistor and we LOVE it! We've had a lot of fun working out with it and feel like the added resistance has added quickness and agility to our game (basketball and soccer). The only downside is that there are no instructions or workouts included in the box (not in mine anyway), but it's pretty easy to figure out how to use and there are a lot of workouts and videos on this and similar resistance band products on the internet.

Would you recommend this to a friend? YES

Nice monitor, excellent video quality, simple.

VERIFIED PURCHASE

This is a great deal on a high quality monitor. Plugged it in and started gaming, crisp video and quick response.

Would you recommend this to a friend? YES

The Best Brand Name

VERIFIED PURCHASE

Great Monitor LCD High dmi. I like the size of the monitor, for movies, video games, and for multimedia movies.

Would you recommend this to a friend? YES

Fun chair

VERIFIED PURCHASE

Bought the chair for the grandson's room so they have a soft and unique place to sit and play video games, etc. Works great for them and adds some fun to the room.

Would you recommend this to a friend? YES

The colors are so vibrant

VERIFIED PURCHASE

I would recommend buying from "o" but I wouldn't want anybody I know to have the same decor. This rug is so full of color, you can't help but feel good around it. Color makes me feel good........my grandchildren love it. It's in a room that no really uses, but on there way in & out, there is a trip made to this rug. All 4 of them lay down on it & say how good it feels & how much they love all the colors. It was a very good purchase just to see the joy that kids aging 4,6,8 &11 get from it. Color does make you feel good, they are my living proof. They don't want to get up from it. Just lay there & talk, know that I think about it, it's a great place to have conversations with the kids & not have to try to get their attention away from a video game.

Would you recommend this to a friend? NO

Good product

The Product I bought was very good, nice size, I how to get some good video Games on Here for my business and I also to get them with good prices.

Would you recommend this to a friend? YES

Very nice and sturdy!

VERIFIED PURCHASE

I am loving overstock! I bought 2 of these to use as seats and keep video game accessories out of sight in living room. It's stylish and functional. plus the kids love them. I did have to cut off hanging thread here and there, I was not pleased with that BUT it wasn't a big deal. Very nice.

Would you recommend this to a friend? YES

For the money, a phenomenal piece of furniture.

VERIFIED PURCHASE

I bought this to house my DirectTv box and 2 Video game consoles. It works perfectly for my needs. I do wish that it was an inch or 2 deeper so I wouldn't have had to cut up the back to accommodate the cords on the DTV box, but it is what it is. The directions for mounting the door were a little confusing too, but I eventually got it. That said, this is a beautiful cabinet and I'm very happy with it. It's unbelievably sturdy for a build it from box unit. Quality materials and intelligent design. I've built many of these projects in the past and this was by far my best experience. I would not recommend it for a stereo system rack. The shelves are just too small for high end equipment, plus there is little ventilation and it tends to get hot in there.... I leave it open when playing video games. For the money, this is a phenomenal piece of furniture. Just make sure you measure the components you want to put in there to make sure they (and the cords in back) are going to have enough room. I'll probably buy a couple more of these for bookcases.

Would you recommend this to a friend? YES

Just what I wanted

VERIFIED PURCHASE

I had been searching for a console to replace a large entertainment center that was in my flooded basement. I wanted something that had small legs, rather than something that sat entirely on the floor. The piece was delivered without a scratch. The delivery company was easy to work with and worked around my schedule. The drawers are great and hold all of my video and gaming items. Love this piece!

Would you recommend this to a friend? YES


Shop Other Events