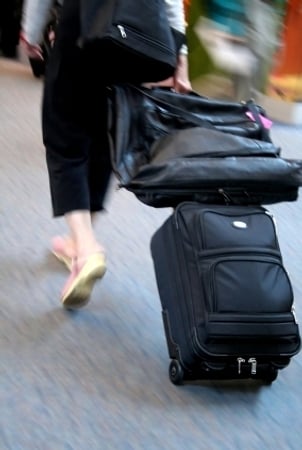 Wherever you're going on your next trip, there are trendy travel bags out there just for you. While there are many factors involved in choosing luggage, knowing the current trends can keep you informed and up to date. Overstock.com has assembled this collection of the top trends in travel bags to help you decide which trendy travel bag is right for you. Keep reading to learn about the current trends in travel bags.
Travel Bag Trends:

Sport duffels and travel bags: These popular bags let you take your favorite sport with you on vacation or to the next meet, game or competition while protecting your valuable equipment. Wherever you decide to take your sport equipment, take it there in sport duffels or sport-specific travel bags. Golf travel bags, for instance, have a unique shape to accommodate your clubs, irons and accessories. Other sports requiring specific travel bags include racquetball, hockey, skiing and baseball. When you're choosing luggage for your sports equipment, investigate the top brands so you can get quality sport and golf travel bags. Also, look for the special features you need for your equipment, such mesh pockets to hold balls.

Suiters and garment travel bags: These handy traveling bags protect your clothes from wrinkles, making them one of the most popular travel bags for vacations and business trips. Choose your garment travel bags based on what clothes you need to protect from wrinkles. For example, a fold-and-carry garment travel bag might work best for your dresses, while rolling suiters are designed to protect your business suits. Outside pockets make these traveling bags even more popular as they allow you to pack the little extras that don't quite belong anywhere else, such as jewelry or cuff links. Garment travel bags with PVC backing or an EVA panel will give your clothes extra protection.

Toiletry cases and cosmetic travel bags: These bags remain a popular favorite because they help you pack and organize your cosmetics and hygiene items. Choosing a toiletry travel bag can be tricky since it can be hard to gauge how much you'll need to take with you on the majority of your trips, but cosmetic travel bags with trays or pouches will help you stay organized. A toiletry travel bag doesn't necessarily come empty, either; manicure tool sets, for example, are a collection of necessities packed into one small bag, which helps you remember everything and conserve space. Cosmetic travel bags can be as small as a makeup brush set with a pouch for eye shadow and mascara or large enough to hold your blow dryer and flat iron in addition to your beauty routine items.

Buy Travel Bags
Back to Guides Directory