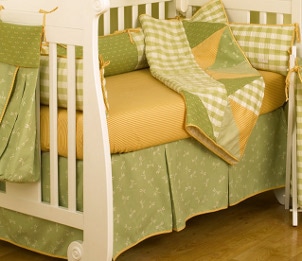 There is a lot to know about baby crib mattresses, from safety tips to budget-friendly options. This can leave many parents in a difficult position when trying to choose a baby mattress for their nursery. Baby mattresses need to be firm and fit snuggly in the crib to prevent injury and suffocation, but beyond that, there are nearly endless options to choose from. We've collected information about the top styles of baby crib mattresses to help make the decision easier.
Styles of Baby Crib Mattresses:

Double-sided: Many cribs actually convert from a crib to a toddler day bed, and a double-sided mattress converts right along with it. Double-sided, or convertible, crib mattresses will have a firmer side for infants and a softer side for toddlers. You can save money and space by choosing a double-sided mattress and simply flipping it over when your child is ready for a toddler bed.

Organic: There are many concerns about chemicals in mattresses, including baby mattresses. For this reason, many parents are choosing to use organic mattresses in their babies' cribs. Organic crib mattresses are typically made with organic latex, cotton or wool and are not treated with chemicals. Since your baby spends several hours a day sleeping, an organic baby mattress can keep her safe from coming in contact with chemicals.

Compact: Slightly smaller in size, compact crib mattresses typically fit inside portable cribs and even playards. A compact mattress is just as firm and safe for your baby as a standard crib mattress and is convenient if your baby sleeps or naps in a portable crib or if you use a playard or travel crib away from home.

Hypoallergenic: Babies have very sensitive skin, and the materials or chemical treatments found in mattresses can irritate them. Many parents are choosing to buy hypoallergenic baby mattresses to avoid irritation and allergic reactions. If you're concerned about allergies, you may also want to consider avoiding latex baby mattresses, as latex is a common allergen.

Foam: Baby mattresses made out of foam are lightweight but still firm enough for your baby to sleep on safely. A lightweight mattress is easy to move and convenient for changing sheets. Foam mattresses are also typically less bouncy than other types, discouraging your baby from jumping on his bed when he is older.

Innerspring: Innerspring mattresses are among the most popular styles because they are sturdy, firm and similar to mattresses we sleep on as adults. Innerspring mattresses can be significantly heavier than foam mattresses, however, making them more difficult to move and lift.

Buy Crib Mattresses
Back to Guides Directory