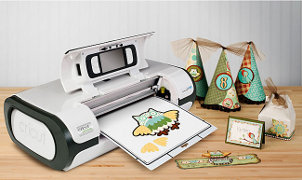 If you love crafting and scrapbooking, you know how expensive crafts can get. Save your budget from a crafts and sewing spending blowout by purchasing clearance crafts at Overstock.com. We've slashed our already low prices to put our crafts in the virtual clearance bins everyone loves to sort through. If you're not sold on the idea of browsing the clearance pages yet, keep reading for the top reasons to buy clearance crafts.
Buying Clearance Crafts:

Cheaper prices: The biggest reason why everyone loves crafts and sewing clearance items is the cheaper prices. You may think that the clearance bins only hold items that are cheap or unpopular, but this not the case. Often, a new product will outstrip its predecessor in popularity even though the first model works like a charm; sometimes manufacturers make too much of an item and the extras go to clearance. Either way, browsing through the clearance craft supplies is a great way to find discount crafts, sewing machines and scrapbooking supplies cheaper than you could find them elsewhere.

Test models: Discount crafts are often made by less popular or less known brand names or are much older versions of a machine than is currently popular, but don't let this discourage you from looking at clearance crafts. Buying off-brand craft products lets you figure out how to use sewing machines or die-cut machines in general, while buying old-model crafts on sale allows you to understand the basics of how a certain brand works.

Back to basics: The clearance bins are a great place to stock up on basic craft supplies, like cartridges for your die-cut machine or cutting mats for other projects. These crafts can be expensive, so get your crafts on sale by looking in clearance first. Other basic crafts on sale can include tape, paper punches and glitter glue. When you stock your craft and sewing cupboards with supplies from the clearance pages, you'll save enough to finally start the fancy project you've had on your list for ages.

Age appropriate: You might not think it, but the clearance bins are a great place to find crafts for kids, such as simple sew-and-stuff kits or knot bracelet sets. These easy craft projects can entertain children on long car rides or when they're sick and stuck home in bed. Stock up on inexpensive crafts for kids for your own children or to give as gifts. The possibilities are endless in the world of crafts.

Buy Clearance Crafts and Sewing
Back to Guides Directory