Top Headphones for Christmas 2015
by Kevin P. McGrath
Updated September 30, 2015
With more gadgets and technology that help keep us connected, music is constantly just a click away. However, in order to harness the full potential of your iPods, smart phones, and tablets, you need a great pair of headphones. With so many amazing audio headphones to choose from, you can find the perfect ones for everyone on your Christmas list. Here are some features to help you pick the best pair to give to each person.
Popular Headphone Types: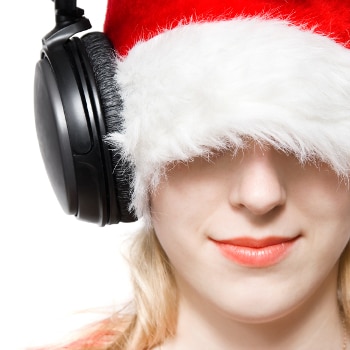 Shop Headphones ▸
Earbuds

Earbuds fit snugly into the ear and are popular for people on the go. Certain Apple and Samsung earbuds have a built-in microphone, which makes these headphones great for taking hands-free phone calls or for video chatting. For the athletic person in your life, in-ear sport headphones, like the JVC Sport, can be great for running or working out at the gym.

Over-the-Ear

Big, cushioned head phones are a popular fashion accessory, and they're the best way to get a great sound with a huge bass. Popularized by high-end brands such as Beats by Dr. Dre, Urbanears, or Skullcandy, these headphones come in a variety of bright colors and unique designs that teens want. If the person you're shopping for likes creating or mixing music, then professional-quality headphones are a must. For these musicians, look for a high-end studio headphone, such as the Sony MDR-7520 Professional Studio Headphones or Audio-Technica Professional DJ Monitor Headphones.

Noise Canceling

These are the first choice among frequent travelers. A set of noise-canceling headphones will help drown out a crowded airplane and keep the audio crystal clear. Bose headphones are best known for their perfected noise-canceling technology, and they have a sleek, professional design. For a modern-looking noise-canceling headphone, try the Monster Inspiration Active Noise Canceling Headphones or the Soul by Ludacris Noise-Canceling Headphones.

Wireless & Bluetooth

For ultimate hands-free convenience, Bluetooth and wireless headphones offer a perfect sound without the wires. If you have a housemate that likes late-night TV, try giving them a pair of wireless headphones, like the Sennheiser Wireless Headphones, that they can use in bed or on the couch without disturbing others. Bluetooth headphones can be great for hands-free communication in the car or on the run. Using controls right on the headphones lets you quickly answer phone calls or switch back and forth between songs.