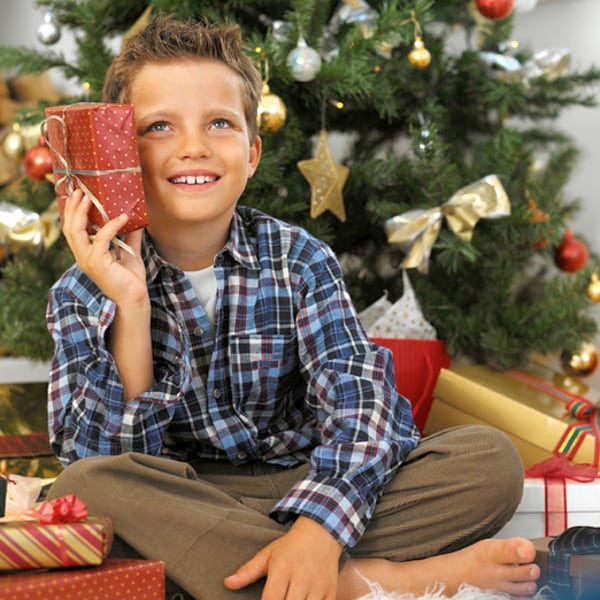 Top Christmas 2014 Toys for Boys
Are you looking for the hottest toys for Christmas? Whether you're shopping for the perfect gift for your son, grandson, or nephew, you'll want to give him something that will provide hours of fun and spark his creativity. When you're Christmas shopping this year, be sure to put a few of these top toys on your list.
Action Figures
Imaginative play helps kids develop problem-solving skills and helps with language development, and many little boys love using action figures to get their imaginations going. Toy soldiers are a classic gift, but you can also find animals, trains, cars, and more. If you're looking for a whole set of action figures, shop for In Toobs action figures, which make excellent stocking stuffers.
Toy Vehicles
Whether it's because of nature or nurture, little boys often love toy vehicles. And since they can be played with in many different ways, toy cars, trucks, and trains provide endless opportunities for imaginative play. From racing cars on a track to playing "mechanic" on a truck, your little boy will find countless ways to enjoy this toy. Choose larger trucks for young children, and smaller race cars and model trains for older kids.
Remote Control Toys
From cars to planes, remote control toys are a favorite Christmas gift for boys every year. For younger kids, choose RC toys that are already assembled and have a simple remote. For kids ages 14 and up, as well as for adult hobbyists, look for kits that will let them build their own RC toys.
Fort Sets & Play Tents
Kids love having a secret hiding place, and forts are the perfect solution. They come in a variety of styles, from bed tents to build-a-fort sets. Choose an indoor play tent if you want something he can play in when the weather is bad, or choose an outdoor play tent if you want something that can be set up in the backyard.
Mega Bloks
Featuring a variety of characters that children love, Mega Bloks have become a popular brand of building blocks. Many of the sets have a design that is easy for toddlers and preschoolers to use, while other Mega Bloks sets are designed for children ages 8 and up, so you'll want to check the age recommendation when you're shopping.
Scooters
Perfect for getting around the neighborhood, scooters are available in models that are suited for children as young as 3 years old and up to adults. For younger children, look for small, plastic scooters. For older kids and adults who want to do tricks, you'll want to shop for metal scooters. For older kids who need a quick way to get to school, look for electric scooters.
what shoppers are saying about Toys for Boys at overstock™
Related product reviews

Nice Cat Tree

VERIFIED PURCHASE

I originally ordered this for my 3 cats (2 boys, 1 girl). One boy is on the heavy side and de-clawed. I don't know how old he is because he was a rescue. The other 2 are average weight/size and are technically senior cats since they are over 7 now. They don't act like it though. They all climbed on it at different times. Even the de-clawed cat could with no problem. The boys did bat at the mouse dangler, but didn't tear it up. They ended up using the tree more as a landing pad to jump on top of the entertainment center than to actually play or nap on. They each fit in the cubby, but none of them really cared for that part much. The de-clawed boy would sit on the top perches some and bat other toys around the bottom post. I had the tree for 6 months or so before I wound up giving it to my parents' cat when they moved to a new place. They had a couple of other trees already and I hadn't evaluated my living room space well so it was a bit crowed. I felt their 1 year old boy cat would get better use out of it. He ignored it the first few days of course, but then he took to it nicely.He did tear the mouse dangler off. He lounges on the top and round perch and at the bottom behind the ladder. I don't think he cares for the cubby either. He really goes after the sisal rope scratching on the posts too. The sisal is coming off one post that it almost needs to be replaced because he uses it so much. It assembled pretty easily. And it disassembled and reassembled easily too to move it too.

Would you recommend this to a friend? YES

Awesome vacuum

VERIFIED PURCHASE

Believe it or not it took me months of reading online reviews for me to make the painful desicion to buy such an expensive vacuum. Never the less I found the option of a certified refurbished one and I took the opportunity. Man! Was it the right thing to do! This vacuum is POWERFUL! It looks sort flimsy at first but it can handle it. It doesn't just vacuum up dirt and animal hair it defeats it! I had received the vacuum at my parents' house since I was in the stages of moving so they were sceptical of my purchase. Boy, were they shocked when I plugged it in and sucked out a canister full of dirt sitting in their "professionally" cleaned Persian rug! My mother was ecstatic and took the vacuum from me and started getting all of her rugs around the house little a happy kid with a new toy. My mother is a clean freak, if you hadn't noticed. At the end of the day I'm so happy I got this vacuum the accessories are wonderful easy to use, easy to follow picture instructions. I rate this vacuum very high on necessary for a sanitary home.

Would you recommend this to a friend? NO

Perfect.

VERIFIED PURCHASE

Love this trunk! Perfect in little boy's room at foot of bed for toys.

Would you recommend this to a friend? YES

Alot of fun for my 6 year old

VERIFIED PURCHASE

Great toy for young boy. Seems durable and has held up under a lot of wear and tear inside and outside.

Would you recommend this to a friend? NO

Toy Box

VERIFIED PURCHASE

I purchased this to use as a decorative toy box for the boys room. It is attractive and sturdy. Love it!

Would you recommend this to a friend? YES

March of the Wooden Soldiers - Laurel & Hardy

VERIFIED PURCHASE

This is one for nostalgia buffs. As a youngster in the 1950's I saw this movie a few times generally around Christmas season. Although Laurel & Hardy were before my time I always had a good laugh at their bumbling throughout this movie. I'm sure purest would lament that this colorized version is not true to the movie's history but its still L & H in one of their best. The boys are humiliated toy makers in Santa's work shop, who are loked upon as village idiots in part because Stan Laurel messed up a Christmas toy order for 600, one-foot wooden toy soldier, making instead 100, six-foot wooden toy soldier. Weaved throughout the movie are nursery rhyme characters complete with Little Bo Peep and her sheep and others who all live with Old Mother Hubbard in her shoe home. The evil character desires to marry Bo Peep and tricks his way into getting her to agree to marry him after her love interest is arrested for killing one of the three little pigs (who the evil character actually kidnapped instead). The boys accidentally mess up the evil character's plans and in his anger he releases his hord of animal-like subjects on the village to capture Bo Peep and bring her to his lair for the wedding. The creature attack on the village becomes chaotic but the boys rise to the occasion and eventually win the day after Stan Laurel winds up and unleashes the 100, 6-foot wooden soldiers who chase off the bad guys. Of course this is a very dated movie and no one under the age of 6 is going to be worried about the outcome of the pitch battle, but its also a fun look back at a time when life was simplier and the things that captured our attention were made without all sorts of graphics, etc. If you're in your 50/60's this my take you on a journey back to when mom, dad, and the kids all went together to the theater for a double feature on a Saturday afternoon. Re-living those 60-year old childhood memories makes this purchase an excellent value for me.

Would you recommend this to a friend? YES

pups

VERIFIED PURCHASE

love the toys for my Pekingese, except the 14lb boy still tore his up is 2 days, however I will definitely order another.....

Would you recommend this to a friend? NO

Best Bow and Arrow set yet!

VERIFIED PURCHASE

This bow and arrow set is perfect for our 6-year son. The arrows are soft enough to shoot and not break anything and the bow is well constructed and holds up to lots of boy energy. Great toy!

Would you recommend this to a friend? YES

Pleasantly Surprised

VERIFIED PURCHASE

I ordered this cubby and the three compartment cubby thinking just one wouldn't be enough but I was pleasantly surprised with how many toys it holds. I have three boys and I love the blue (it's more like a navy). I'm a SAHM and I was able to put both cubbies together before my husband got home from work. There was a paint smell after I got them together but I was so impressed with how much more organized the room was the smell was minor to me. Will definitely be buying more in the future!

Would you recommend this to a friend? YES

Shop Other Events