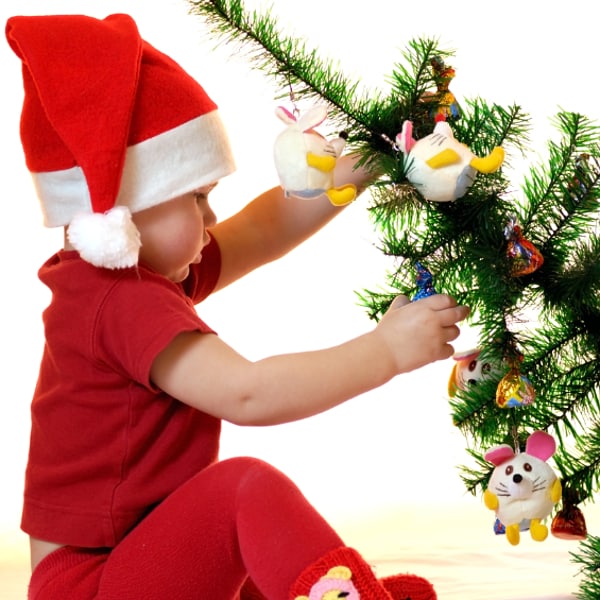 Top Baby Toys for Christmas 2014
Shopping for your baby's first Christmas can be a fun way to make sure she has the toys she needs to help with her development. To give her all the support she needs from the beginning, start her out with the best baby toys, things that will stimulate her mind and give her ways to exercise her growing body. With these top baby toys in her nursery, she'll be ready to begin a lifetime of playing and learning.
Activity Gyms
Activity gyms give little babies the perfect place to play. Hanging toys stimulate their eyes and give them something to reach for and giggle at. Some even have music players built in. Choose a padded play mat if you need a good spot for your baby to spend tummy time, which helps your baby develop neck strength and gets her a break from being on her back.
Push Toys
Babies who are 6 months to 1 year old are getting ready to stand up and maybe even take a few tentative steps. Push toys can help your baby stay steady as she starts to walk, and many make delightful noises to encourage her to keep moving. If your baby isn't quite to that stage, choose a push toy that has activities she can use while seated on the floor.
Shape Sorters & Ring Stackers
Stackers can be played with starting at 4 months old, but it will be a few months before some of the concepts make sense to your baby; she may want to just grab and chew the rings at first, which is important for development, too. Babies who are about 15 months old are ready to try shape sorters. Both of these toys develop fine motor skills, hand-eye coordination, and shape identification, an early math skill. Play these games with your baby and tell her the name of the shapes or talk about the colors. Help her with them at first, and then let her work on getting them into the right spot through trial and error.
Teethers
At 6 months old, your baby is probably starting to get her first teeth, and a fair amount of pain can come along with them. Give your baby a teether to chew on to help alleviate the pain. Choose one that is visually stimulating. You can even find ones that make a squeaky sound to help entertain her. Teethers are a cute stocking stuffer for a baby.
Toy "Electronics"
Baby versions of cell phones and remote controls are popular because they let babies try out the objects their parents use without any chance of breaking the real things. The baby toy versions also do things the real objects don't do, like light up and play simple songs. These little toys are perfect for keeping in a diaper bag to pull out whenever your baby needs some stimulation.
what shoppers are saying about Baby Toys at overstock™
Related product reviews

Great Buy

VERIFIED PURCHASE

Love this ottoman for storing my babys toys. It really helps with making my family room a play room/room for company. I would recommend this ottoman to anyone who wants to store things.

Would you recommend this to a friend? YES

One huge problem with this table

VERIFIED PURCHASE

A bit of a challenge to assemble but I figured it out. I laid out all the pieces and parts and determined everything was in order and would assemble as needed. When I assemble furniture I always glue in the dowles to make it more sturdy. Well, when I got to the last piece to the pie I determined that the pre-assembled section had the groove that holds the platform up side down. Making this table useless to lay a baby on. Since everything was glued together it was impossible to return it. So, we used it for the baby when an infant and now it will be a "toy shelf". Even though we still need a changing table but are afraid to lay a 20 pound baby on it.

Would you recommend this to a friend? NO

nice storage for baby toys

bought one of these because i wanted to keep my youngest son's toys separate from his brothers' stuff. fits more than you think. also soft so he doesnt get hurt when he bumps into it

Would you recommend this to a friend? YES

beautiful but sheds

VERIFIED PURCHASE

My husband and I picked this rug together. We loved it once it arrived, and the color and design did not disappoint. Unfortunately, it sheds. ALOT. I tried everything, but it constantly sheds. My baby now has this rug fur all over his clothes and toys. Sad.

Would you recommend this to a friend? NO

Love it

VERIFIED PURCHASE

I already have one of these so I got a 2nd one as a present. My kids love this. In winter 2 of the blocks store all the throws for evening tv watching. The other 2 cubes hold baby's toys. Because it's soft enough kids can easily climb on and sit on this. Cleaning is just a damp wipe.

Would you recommend this to a friend? YES

A fun toy for an infant

VERIFIED PURCHASE

A fun toy for my 7 month old grand son. He is teething and whenever he is handed this toy he immediately bites down on it. The squeaky sound it makes intrigues him and he always has a big smile on his face when using this toy girafee.

Would you recommend this to a friend? YES

Very funny book

VERIFIED PURCHASE

My baby likes it. He was laughing. I don't think he understood the content but the cat made him laugh. Plus the green egg is good toy. He was occupied with it for along time.

Would you recommend this to a friend? YES

Amazing for the Price! :-)

VERIFIED PURCHASE

Thanks to all of those who wrote reviews on this item. Because of the reviews we decided to purchase at the last minute before our little one arrives. Since we have a 2 story home, we made plans for our little one to stay in our Master bedroom for the first few months and needed something that was going to resolve our storage issue. Wanted to have an organized area for the baby. THIS IS PERFECT!!!! It is very well made and love the expresso color, which also matches our bedroom set and the baby's room upstairs. Once the baby grows a bit, we are going to use it for his toy storage :-) GREAT PRODUCT FOR THE PRICE!

Would you recommend this to a friend? YES

Colorful and Durable (yet soft) large bins!

VERIFIED PURCHASE

I bought these in a few different colors - the green, orange, red and blue - to sort and hold toys for my infant twins. Bottom line, I am very happy with them and have received so many compliments on them as we have them in our family room. They look nice, but more importantly are very durable, easy to hold with handles, and wonderful as they can bend as my babies lean over to get toys out. I think they are a bit overpriced, but that is my opinion.. I couldn't find any other bin like this for the same quality and color choices, so I'm actually ordering a few more.

Would you recommend this to a friend? YES

Excellent

VERIFIED PURCHASE

I bought this for my godson. He is 13 months old and just starting to walk well. He was so intrigued by this toy, I bought it a second time for a friend. Both babies love this truck.

Would you recommend this to a friend? YES

wubanub lamb

VERIFIED PURCHASE

I recommend this to every mom. The attached toy Is perfect for keeping the pacifier in place even when your baby spits it out. Toy is super plush and cuddly

Would you recommend this to a friend? YES

Nelson Industrial Modern Rustic Cocktail Table

VERIFIED PURCHASE

I was lucky enough to get the Nelson Industrial Rustic table on a Flash Deal for an amazing price. Since I'd ordered tables, rugs and a chair before from Overstock I was pretty sure this would be "nice" , wrong...it's great!!! Assembly was fast and easy. The first test was the day after we got it, baby shower time at my house. Gracie a nearly one year old banged on it with wooden coasters, ran toys over it, she loved , so do we. It's sturdy, the top is grooved wood with a protective finish on it, there's a large wire shelf under it, which can serve many purposes, decorative or practical. Our family room is now undergoing a change to the industrial look, inspired by the Nelson table.

Would you recommend this to a friend? YES

Love these they worked great for my baby nursery

VERIFIED PURCHASE

Worked great for my baby nursery to store diapers, Baby Powder, and my wipes. Also would work for baby socks, clothes or toys.

Would you recommend this to a friend? YES

Cute baby toy

VERIFIED PURCHASE

My 6 month old son loves this. It is easy to get on and off. It uses a clamp system that adjusts to different widths. The colors are vibrant and offer motion. The flower spins if you Pull a string and release it, but my son doesn't quite have the release part of that concept down. He likes to chew on the soft plastic handle of the pull. This was cuter than anything I could find in the stores. It makes driving much more enjoyable for both of us.

Would you recommend this to a friend? YES

Adorable

VERIFIED PURCHASE

This is a great toy for a baby. Wonderful quality. I would buy another as a gift.

Would you recommend this to a friend? YES

purchased 3 a year ago. Excellent choice

VERIFIED PURCHASE

I have 3 toy poodles. Dad, mom and baby.The dad is 18yrs old, the mom 12yrs old and baby 10 yrs old. They all love their beds. The varity in colors made it nice. They all have a different color. A year later I can't tell you how many times I've machine washed their beds especially the senior dog bed and they still are in excellent condition. I highly recommend this item. Mrs. Williams

Would you recommend this to a friend? YES

Useful, Everyday Diaper Bag

VERIFIED PURCHASE

Great, stylish bag. Overpriced, but you pay for the JP Lizzy brand. I've had this bag 9 months. Use it EVERY day. Still in nearly perfect condition. Inner lining is cotton. Hand-washed/line-dried once with great results. Pros: stylish, adjustable-length arm straps, large interior (for church I pack two diapers, wipes container, nursing cover, blanket, burp cloth, a couple of baby toys, a large coloring book, box of crayons, kids magazines, my wallet/sunglasses/keys/compact and lipgloss), still fits well in my very small undercarriage compartment of the stroller Cons: Strap piece broke but I glued it back together, magnetic clasp broke but I don't close it much

Would you recommend this to a friend? YES

nice for toys

VERIFIED PURCHASE

i love this I use it to store my babies toys. she can open it and alot of toys fit in there.

Would you recommend this to a friend? YES

Active Dog Loves The Dude

VERIFIED PURCHASE

Our Doxie gets a lot of exercise chasing treat balls around. I got this to give him a new Challenge. The treats we use come out the bottom, not the hole in the head, which is fine because we also use baby carrots and raw green beans. He enjoys it. This is the same dog that chewed through a Kong toy in 1/2 hour and a Caesar Milan in less time. He and insubstantial rubber do not get along and destuff anything. But this he loves. Very happy with this.

Would you recommend this to a friend? YES

Great Storage Bench for toys

VERIFIED PURCHASE

Looks great and is serving a good purpose. It looks sharp in our living room and stores a lot of little toys for our grandbaby's frequent visits. The top is solid enough that he can run his little cars over it and lay his big board books on it to read. If he isn't nearby, I can even set a glass of water on it without it tipping over. I have a large tray with sides that I was using on it to steady drinks and such, but the baby kept trying to yank it off. The ONLY complaint I have is that it had an awful fume-filled odor inside. It took weeks for the fumes to wear off -- even after leaving it opened in the garage for several days and then keeping it open every night. I did not feel good about storing fabric items in it until several months after airing it out because I was afraid the fumes would permeate the fabric. All-in-all, though, I am very pleased with this now. It also proved handy during the holidays when we needed an extra spot for our teenaged granddaughters to sit.

Would you recommend this to a friend? YES

Baby's Favorite Toy

VERIFIED PURCHASE

I avoided buying this because it seemed like an overpriced chew toy. I was wrong. It is prefect for tiny hands and mouths. Sophie is my baby's favorite toy. I have bought three since my first purchase to give as gifts.

Would you recommend this to a friend? YES


Shop Other Events