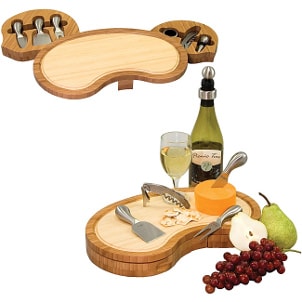 Sitting down to enjoy a great glass of wine is one of life's great pleasures. When you've treated yourself to a good bottle of wine, make sure to have the proper wine accessories on hand to complete the experience. Whether you're shopping for yourself or someone else, wine accessories are sure to be enjoyed, and if you give them as a gift, you have an excuse to join your friends for an evening of indulgence. Read on to learn about the top 5 wine accessories on the market today.
Best Wine Accessories:

Corkscrew: Corkscrews are an essential part of a good wine experience. While there are wines with twist-off tops, it's commonly accepted that the best wines will come in a bottle with a cork. There are natural and man-made corks; the man-made variety is gaining popularity because of cork's impact on the environment, but both are equally effective at providing an airtight seal to keep your wine fresh. No matter which cork type you have, you need a way to remove it and get to the good stuff in the bottle. A good corkscrew will pull the cork out in one smooth motion and not drop cork in the wine. There are several main types of corkscrews: twisting, lever-style, winged and pronged. Lever corkscrews are the easiest to use; pronged, the most difficult.

Coasters: Coasters are a great accessory not only for wine but for any beverage. Designed to protect your furniture from the condensation and drips that go hand in hand with cool beverages, they're an ideal wine accessory. Coasters come in a variety of materials; everything from naturally absorbent sandstone to man-made paper products. Choose coasters to match your decor or spice up a party. They come with monograms, team logos, even shaped like flip flops for summer fun.

Glasses: Glasses are a necessary wine accessory, and fun barware just makes it better. There are different glasses for white and red wines, decide what kind of wine you're likely to be drinking and choose appropriately, or buy some of each so you can drink whatever wine comes your way. White wine is best served in a narrow glass; the delicate aromas of white wine are better appreciated in a more concentrated form. Red wine glasses are larger than white wine glasses; the oval bowl is designed to aerate the wine as you swirl it before drinking.

Ice bucket: Wine is designed to be served at a specific temperature: whites chilled to 45 degrees and reds from 60 to 65 degrees. In general, if you remove a white wine from the refrigerator 20 minutes before serving it, you'll be fine, and placing a red in to cool 15 to 20 minutes before drinking will bring it to the correct temperature. Once you've opened the wine and started your meal, you want to have the bottle close at hand. Fill an ice bucket with ice and tuck the wine inside; it'll be perfect for drinking right through dinner.

Decanter: A decanter is a wine accessory that is both beautiful and functional. Red wines taste best when they're allowed to breathe; transferring the wine from the bottle to the decanter and then to your glass allows for air interaction with a maximum surface area. Decanters also serve to remove sediment from wine. The shape of the decanter allows the sediment to settle to the bottom and remain there as you pour the wine. Decanters provide a smooth wine-drinking experience and look lovely on the table.

Buy Wine Accessories
Back to Guides Directory