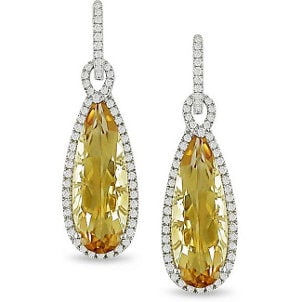 If you love to dress in dark, neutral colors year-round, then add some citrine chandelier earrings to your wardrobe. Citrine earrings will add bright, glowing light to any simple outfit without diluting the edginess you desire in your look. Like the sparkling yellow eyes of a beautiful owl in the night, citrine jewelry accents an outfit with rich yellow hues. Keep several pairs of lovely chandelier earrings handy, and it will be easy to accessorize jeans, dresses and skirts with this extravagant gemstone jewelry.
Ways to Wear Citrine Earrings:

Witchy couture: Summon your inner dark goddess with stunning citrine chandelier earrings. Citrine jewelry has an enchanted glow, making it the perfect accessory for your mysterious, flowing dresses. Add citrine earrings to a black dress and enhance the look with pointy red stilettos and a stack of unique bracelets. Style your hair around the chandelier earrings for more impact.

Nature spirit: The loveliness of citrine fashion earrings reflects the beauty of the stars, the vitality of fresh wildflowers and the brilliance of a butterfly's wings. Embrace the splendor of nature by crafting an outfit or an entire wardrobe around gemstone jewelry. Bright citrine chandelier earrings are delightful with floral dresses, colorful shirts and fringed leather moccasins.

World traveler: Wearing mystical gemstones gives you the look of having traveled to the most exotic places on Earth. A pair of citrine fashion earrings lends interesting flair to almost any outfit. Wear citrine jewelry with long, patterned skirts, brightly colored linen pants and relaxed silk shirts. Add gold stackable rings and bold leather bracelets to the look for a stunning worldly ensemble.

Modern princess: If you love your sleek, modern wardrobe but would like to bring more color and sparkle to your daily look, consider bright gemstone jewelry. Citrine chandelier earrings go well with grey trousers, white button-up shirts, skinny dark jeans and black tube dresses.

Gilded girl: Gold used to be the most popular and prized metal, especially in jewelry. Though silver and white gold jewelry are very trendy, a yellow gold ensemble is luxurious and thrilling. Choose a pair of yellow gold and citrine chandelier earrings and wear them with gold rings, gold ballet flats and a shiny gold top. Add a dash of gold eye shadow to bring out the brilliance in your citrine chandelier earrings.

Buy Chandelier Earrings
Back to Guides Directory