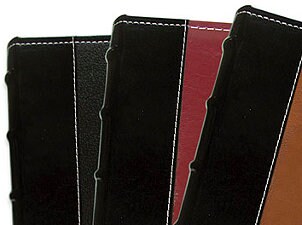 Binders are an essential office supply item. They are used by virtually everyone: busy professionals, students and teachers. Binders are even used at home for personal art and scrapbooking projects. They come in a variety of colors and sizes. When working with office supplies, like a binder, it may help to purchase additional binder accessories, such as sheet protectors, sticker pages, photo pages and dividers, to help you stay organized. With the right office supplies and a binder, you'll find solutions for projects in and out of the office. Here are the top five uses for a binder.
The Top 5 Binder Uses:

Organizing financial information. You can organize and record financial information on either a personal or a professional level throughout the year. When storing financial information on a personal computer, it's a good idea to have a hard copy as a backup. Office supplies like binders and colored tabs can help you organize complex financial documents for easy reference. Use your financial binder for saving receipts and a running spreadsheet of income versus expenses. Keep all of your budget, insurance, investment and banking information in an organized binder for quick and easy review.

Portfolios of professional work samples. A professional portfolio is a must-have tool for job interviews and networking. Save examples of your work, reference letters and your resume in a sleek, professional binder. Bringing an artfully put together portfolio binder to job interviews shows off your skills and can visually impress a potential employer.

Promotional packets and presentations. Construct a packet to hold promotional materials and place it in a durable, stylish binder. Having a very professional and detailed account of an event or product in an attractive binder is a great way to present information in a simple and stylish manner. Companies use binders for assembling information on their operations for use as promotional packets and internal training materials. Professionals are frequently called upon to give presentations as well. Make your presentation a success by using binders to distribute all of your presentation materials to your audience at once.

Scrapbooks and photos. Binders are ideal for constructing sturdy scrapbooks. By using the binders with clear covers and binder accessories, you can customize and create a scrapbook to hold your memories forever. Binders also keep your pictures organized and safe from damage, so you can view them for years to come.

Collecting recipes. If you're tired of digging through a pile of recipes every time you want to create an appetizing dish, get organized with a binder. Type up your recipes and organize them in a binder. You'll be creating your own binder cookbook with an index and page numbers; you can even add photos of your favorite dishes.

Buy Binders
Back to Guides Directory