Top 5 Types of Cooktops
by Barbara T. Biehler
Published February 5, 2010 | Updated February 17, 2016
A cooktop is one of the most frequently used and essential appliances in the kitchen. Different from traditional stoves, cooktops are independent cooking devices, separate from traditional ranges and ovens. They can be installed into kitchen islands or over built-in ovens -- anywhere there's space and power available to do so -- and are designed to integrate into kitchen counter tops for a contemporary look.
The Top 5 Cooktops: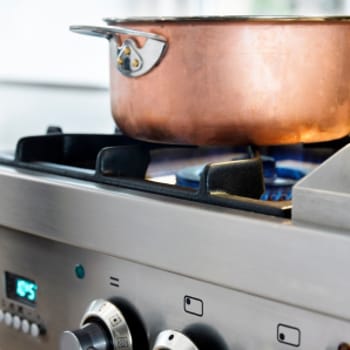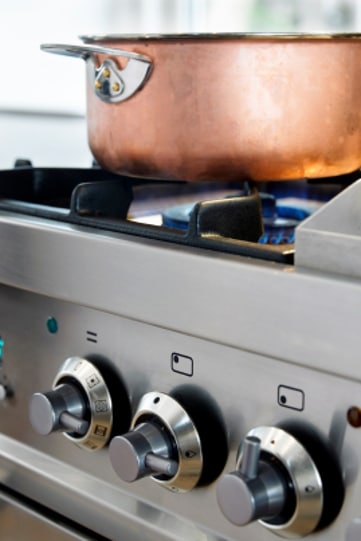 Shop Cooktops & Burners ▸
Electric Coil

Electric coil cooktops generally have four or more burners with drip pans underneath to catch food or spills. Available in a variety of colors and finishes, these cooktops are relatively inexpensive compared to other types of ranges. Electric coil cooktops provide a fixed, even cooking heat and can be used with many different types of cookware.

Electric Smoothtop

An electric smoothtop is a cooktop that has a solid ceramic glass cooking surface with four or more radiant heat elements built underneath. The glass smoothtop is popular because spills are easy to clean and the cooking surface heats up and cools down quickly. The radiant heat elements built into the smoothtop also cook food more rapidly and evenly than electric coils.

Induction

Induction cooktops stay cooler than other conventional cooktops because only the cookware and its contents are heated when cooking; there are no traditional radiant heating elements. Induction cooktops are energy efficient because they don't use traditional radiant heat, and they heat food and liquids more quickly than traditional cooktops. Induction cooktops are powered with electricity but some can be ordered with a gas conversion kit if needed.

Gas

Gas cooktops have four or more burners and a visible cooking flame, offering fast, precise heating. Gas cooktops can have open burners or a smooth ceramic glass top and are often preferred by cooks because they heat up and cool down very quickly. Gas cooktops need a natural gas or propane source and a 120-volt household circuit to operate.

Modular

Modular cooktops provide great cooking flexibility because the traditional round heating elements can be replaced with either a griddle or grill-style cooking assembly. Users can cook food on standard circular cooking elements in pots and pans, replace the elements with a grill to cook a steak or swap the grill for a griddle to cook pancakes. Available in gas or electric models, modular cooktops can measure 30 inches or more in width. Some cooking elements or assemblies may need to be purchased separately.