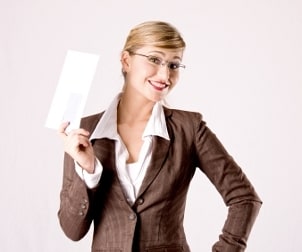 It's important to have the right kinds of shipping supplies on hand when you need them. Nearly every business is shipping some kind of document or package on a daily basis. Business envelopes especially are designed to fit numerous shipping applications. Here are the top five types of business envelopes that will round out any office supply shopping list.
Types of Business Envelopes:

Standard security envelopes: These are a business stationary staple, ideal for sending out invoices and other correspondence with sensitive information. The insides of security business envelopes are printed, making it impossible for the document to be read through the envelope.

Bubble mailers: Bubble mailers are basically manila business envelopes lined with bubble wrap for padding. Short of a protective cardboard box and packing peanuts, padded envelopes, like bubble mailers, are ideal for mailing items you don't want dinged or scratched.

Rigid document envelopes: Rigid business envelopes, made from cardboard or cardstock, are designed to carry documents that shouldn't be folded, such as photos or other fragile documents. The outside usually has a semi-gloss coating, making rigid document envelopes more water-resistant than thin paper envelopes.

Catalog envelopes: Catalog envelopes are durable large-format business envelopes designed to mail documents that are many pages long, such as a report or booklet. Choose catalog envelopes when it would be impractical to fold documents into a normal business envelope.

Tyvek envelopes: Mail can sometimes be exposed to the elements. And while a simple letter may be able to recover from a bit of moisture, others are simply too fragile. Business envelopes constructed from Tyvek are a durable, water-resistant way to ship documents or other materials. These business envelopes are also extremely tear-resistant. Tyvek envelopes will cut easily with scissors, but they are nearly impossible to tear with your hands.

Buy Business Envelopes
Back to Guides Directory