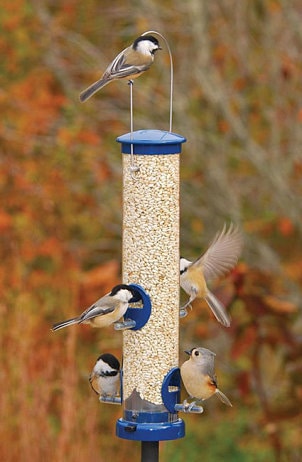 Attracting birds to your yard or balcony is an easy way to make any afternoon more entertaining. If bird watching is on your list of things to do from home, then make sure to check Overstock.com for great prices on birdfeeders and birdbaths. Birdfeeders and birdbaths make your home attractive to feathered friends. Just make sure to set them up far enough from bushes so you're not sending them into an ambush by the neighbor's cat. Choose several sizes and shapes of bird feeders to attract multiple birds and put them out in early spring to encourage season-long visits. Small feeders tend to attract song birds while large feeders will require fewer refills; assess your needs and choose the best system for you. Don't forget a birdbath: You want the birds to feel welcome.
Birdfeeders and Birdbaths:

Hummingbird: Crafted just for these charming birds, hummingbird feeders are often decorative as well as functional. Hummingbird feeders feature bright colors that attract the birds and can be made of glass or plastics and metals. Most have a bottle design that dispenses nectar through ports or into a saucer. This birdfeeder uses nectar as food rather than seeds.

Hopper: This birdfeeder has a large reservoir for birdfeed, which it dispenses through port holes. A hopper can have a tray for the birdfeed or poles at the ports for the birds. These birdfeeders attract small and large birds, especially jays and blackbirds. They can be weighted in such a way that when a heavy animal tries to eat, the weight will slide the ports closed; this saves the food for birds instead of feeding squirrels and chipmunks.

Platform: Featuring a large, flat tray, with or without a roof, this feeder attracts many types of birds and allows several birds to feed at once. This type of feeder can often be hung or set on a pole. Platform birdfeeders also make good ground feeders for goldfinches, cardinals, towhees and doves.

Squirrel-proof: While no bird feeder is completely squirrel-proof, several designs deter these furry critters. Some designs have domes set above and/or below the unit to keep squirrels from climbing onto the feeder. A cage feeder houses the food station in a structure that has openings for small birds. Finally, some bird feeders use a weight-triggered mechanism to deter squirrels; when a squirrel steps onto the pole or tray, his heavy weight triggers the bird feeder to close the feeding ports.

Bird baths: Many birdbaths are simply a shallow dish set on top of a stand, and they allow birds easy access to a sun-warmed pool of water for drinking and bathing. The sound of running water is as appealing to birds as it is to you, so choose an outdoor fountain to add the relaxing sounds of trickling water and frolicking birds to your yard.

Buy Birdfeeders and Birdbaths
Back to Guides Directory