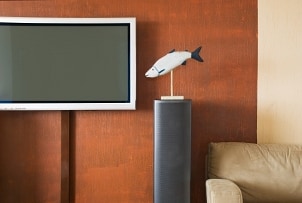 A great way to open up space in your home theater room or living room is to get rid of that bulky entertainment center and fix your flat panel TV to the wall with a television mount. TV mounts are great because they remove the need for a TV cabinet while anchoring your TV securely to the wall. If you're thinking about mounting your TV, consider the position and functionality you want your TV to have. Thinking about TV position can help you decide what type of TV wall mount you need. Here are the top five TV mounts you may want to use.
TV Mount Types:

Flat mounts: Flat TV-wall-mounts secure your TV to the wall. Unlike other TV wall mounts, it doesn't feature moving or articulating parts. This type of mount is best for large, heavy TVs with screens over 32 inches.

Tilting wall-mount: A tilting wall-mount is similar to a flat TV wall-mount, but it allows a certain range of movement and tilts your TV up or down. This is ideal if your TV mount will hold your TV closer to the ceiling or above a fireplace mantle.

Ceiling mounts: TV mounts that attach to the ceiling typically feature a hanging pole and bracket that attach to the TV itself. The ceiling-mount pole will typically have an articulating hinge where it connects to the mounting plate, either on the TV or the wall.

Under-cabinet mounts: These TV mounts are similar to ceiling mounts, though they are usually for use with very small TVs, between 8 inches and 12 inches. Under-cabinet mounts can swivel the TV up under the cabinet for storage and protect it from bumps and scratches when not in use.

Swivel mounts: Swivel mounts are arguably the most versatile of TV mounts because they offer a lot of flexibility in positioning your TV. These TV mounts use cantilever arms with one or more articulating joints. With this type of TV mount, you can move the TV away from the wall and point it in nearly any direction. Some, but not all, of these TV mounts also allow you to tilt the TV vertically.

Buy Television Mounts
Back to Guides Directory