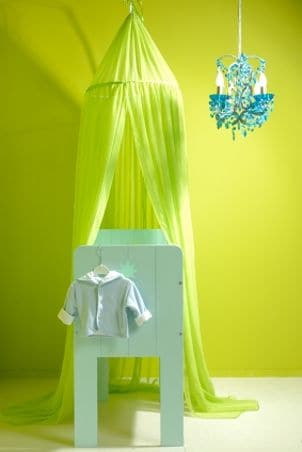 Cribs are the focal point of many nurseries, and finding the right crib is an important part of preparing for the arrival of your baby. When you're shopping for baby cribs, keep in mind your personal tastes and what you want out of a crib. While the main function of cribs is providing a safe, comfortable place for your baby to sleep, many parents are looking for cribs that do much more. From budget and eco-friendly options to baby furniture that reflects a bit of personality, the following tips can guide you through the most popular trends in baby cribs.
Popular Crib Trends:

Convertible: Many parents are choosing to buy convertible cribs for their babies. These budget-friendly beds grow with your child, converting from a crib to a toddler bed, and some even convert into a twin-size bed. Convertible cribs come in many styles to fit your tastes and are ideal for the parent who wants to save money and the hassle of buying a new bed every few years.

Modern: Breaking away from tradition has become a popular trend in baby furniture, and many parents are choosing more modern interpretations of cribs for their nursery. Clean lines, platform cribs and unexpected colors are all part of the trend, as are cribs in surprising shapes and storage cribs with contemporary shelving attachments and unique cubbies for storing baby products.

Eco-friendly: The environmentally-conscious movement has parents seeking out eco-friendly cribs made of repurposed, organic and sustainable materials. Wood cribs made of bamboo, teak and other eco-friendly woods are particularly popular and can even be healthier for your baby, as many eco-friendly cribs and baby furniture are produced without chemicals.

Vintage: Vintage baby cribs are becoming a popular option for nurseries. With a vintage crib, you can choose a crib that is both budget-friendly and eco-friendly. Revamping a vintage or second-hand crib gives you the sought-after shabby chic look that has become so popular with the do-it-yourself movement. If you're concerned about safety standards but like the look of vintage cribs, look for new cribs with a vintage-inspired style to get the same look.

Novelty: Many parents are really bringing the crib to the center of the nursery with novelty crib designs. Round cribs are becoming increasingly popular as are canopy cribs and four-poster cribs. Some parents are even choosing cribs with fun themes for their baby's room, including airplane designs for boys and Cinderella's carriage crib designs for baby girls.

Buy Cribs
Back to Guides Directory