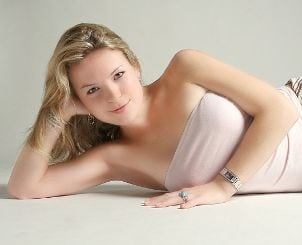 Gold has accessorized the wrists of women since 3,000 B.C. This precious metal has been changed into a plethora of gold bracelet designs in order to accommodate a myriad of jewelry styles and preferences. Although gold bracelet styles change often with jewelry trends, there are a few bracelets that will always be in fashion and that can go with almost anything in your closet. Consider the top five gold bracelet styles when shopping for gold jewelry.
5 Gold Bracelet Styles:

Chain bracelets: Chain bracelets come in many styles. A small gold chain bracelet is an understated way to wear gold jewelry and add sparkle to your everyday outfits or to play up an elegant dress. These tiny chains work well on women of any age and can be worn with other bracelet styles on the same wrist, giving you a modern, edgy look. Thick, chunky chain bracelets are fun and contemporary and can add style to a casual or dressy outfit. Wear thick and thin gold chain bracelets at the same time to add texture to your style.

Thick bangles and cuffs: Gold bangle bracelets and cuff bracelets were popular in ancient Egypt and have never really gone out of style. These chunky bracelets can spruce up a casual outfit, add a little color to a monochromatic ensemble or be worn every day for a dramatic look. Thick bangles and cuffs can be paired with other bracelets for a unique style. Try wearing your gold bangle bracelet with a leather cuff or piece of braided jewelry to accentuate the natural gold tones.

Thin bangles and cuffs: Thin gold cuff bracelets and bangles are perfect for layering or keeping it simple. Thin bangles can be stacked on top of one another to create a modern aesthetic. Thin cuffs and bangles in brilliant gold can also be worn all on their own to tastefully accentuate a cocktail dress or plain outfit.

Charm bracelets: Charm bracelets have always been popular for their whimsical, upbeat style and opportunity for personalization. Gold charm bracelets are casual and dressy at the same time, and they showcase your interests and passions. Choose a charm bracelet with a style that appeals to you and add meaningful gold charms for a bracelet that is unique and entirely yours.

Luxury bracelets: Gold is perfect for luxurious accessories, and beautiful gold bracelets with diamonds, gemstones, intricate detailing and assortments of metals are wonderful investment pieces. Luxury bracelets are ideal when accessorizing formalwear, but they also look beautiful with a suit or pair of jeans. Consider gold luxury bracelets the next time you are shopping for a versatile, glamorous piece of jewelry.

Buy Gold Bracelets
Back to Guides Directory