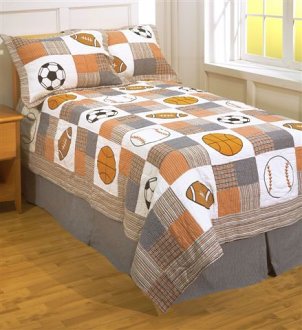 Kids love to make their room a haven. A bedroom can be where children surround themselves with treasured items and favorite memories. To make a room even more personal, outfit the bed with themed bedding. This popular type of children's bedding brings color and fun to any type of bedroom, and it's available in all kinds of themes, from cartoon characters to princesses. If you're looking for boys' bedding, you usually can't go wrong with a sports theme. Sports-themed boys' bedding is made for all major sports, so when you're looking for the right bedding for your kid, it's good to know what to search for. Below, you'll learn the top five sports themes for boys' bedding.
Top 5 Sports Bedding Themes:

Football: Football-themed bedding is a popular bedroom staple for boys. Whether your little guy is the star quarterback or just a fan, you can't go wrong with an NFL bedding ensemble. Find out his favorite team and pick bedding with its logo. You can also go a more subtle route by picking bedding composed of the team's colors.

Basketball: Few boys' bedding themes are as much fun as basketball. Both NBA and NCAA teams are popular choices for sheets and comforters. Some basketball bedding is even dedicated to particular players. For a boy who loves all leagues and teams, consider bedding with basketballs and hoops.

Baseball: Hit a homerun with baseball bedding for your boy. Choose sets with a favorite team logo or go with sheets and blankets with a sporty baseball-and-bat pattern. No matter which direction you choose for baseball-themed bedding, you're certain to put a smile on your son's face.

Soccer: From soccer balls and grassy fields to particular teams, soccer-themed bedding is always a popular pick for boys. Combine the grassy greens associated with soccer with black and white furniture to make your kid's bedroom really pop.

Golf: Golf is an oft-overlooked choice for boys' bedding, but it's always a hit. Find some fun sheets with golf balls or a quilt featuring golf greens and equipment and prepare to hit a hole-in-one with bedroom decor.

Buy Boys' Bedding
Back to Guides Directory