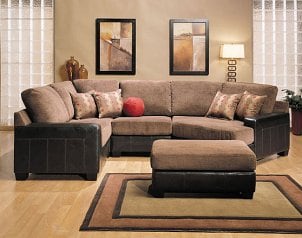 If you have a huge living room, you'll want to choose the right seating to properly fill the space. Too much living room furniture can look cluttered and too little can look barren. It is important to choose the right sofas, chairs and accent furniture for the space. The top 5 sofas for a large living room can help you use your space wisely, increasing your room's comfort and style.
The Top 5 Sofas:

Leather sofas: The benefit of leather furniture is in its ability to withstand the test of time. The most important factor to consider when choosing a leather sofa is the grade.

Leather grades:

A full-grain leather sofa is considered top-of-the-line in leather sofas. You can expect it to be the softest and most durable.

Top-grain leather is not the quality of full-grain leather, but if you're looking to entertain children with ice cream and popcorn, it may be the pick for you. It's not quite as pricey as full-grain, yet it's still durable and soft.

Split-grain leathers are made of the inner and outer parts of the hide. This makes it less durable but, understandably, more affordable.

The least expensive leather is bonded leather, which is made of scraps of leather that are bonded together to form one single piece.

Sofa beds: A futon sofa bed is a great addition if you're looking for something that will help you convert a space into a sleep area as needed. A step-up from a futon, sofa beds are intended to add to your living room arrangement. In order to support whole bed frames, sofa beds are constructed with a sturdier frame than a futon.

Sectional sofas: Sectional sofas offer the advantage of versatility. You can choose L-shaped or straight layouts, with or without built-in chaise or footrest pieces; armed or armless ends; recliners; and even sofa sleepers. The possibilities are endless. Decide what your needs are and build a couch that meets them.

Theater sofas: These couches are the perfect companions for any home theater. Intended to help you achieve optimal potential from your home theater system, many theater sofas will include arm and headrests, reclining capabilities, cup holders and other convenient features. Imagine enjoying your favorite movie in your own leather recliner with massaging rollers, adjustable headrests and cup holders. Plus, your feet won't stick to the floor!

Chaise sofas: If the conventional sofa is not what you're looking for, consider a chaise sofa. Meant to allow you to sit while kicking your feet up, chaise sofas have evolved over the past few years to sit next to the pool or in your living room.

Buy Sofas
Back to Guides Directory