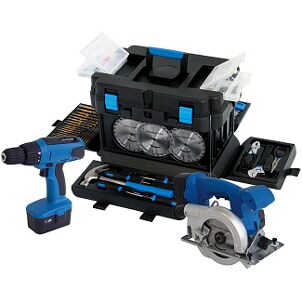 Cordless power tools have come a long way and command a large following in the home-improvement industry. Some of the most popular cordless tools include drills, circular saws, screwdrivers, impact wrenches, reciprocal saws, nail guns and power sanders. While they haven't replaced large shop tools, cordless power tools are very popular on construction sites. Cordless power tools are also perfect for the homeowner who enjoys taking an active role in home improvement and maintenance.
The Top 5 Reasons:

Easy climbing: Cordless power tools let you climb and work from elevated positions easier and more safely. You don't want to have to worry about tripping or becoming entangled in an extension cord when working on a ladder or roof.

No extension cords: One of the best things about cordless tools is that you don't have to use any extension cords, saving you money, time and frustration. With cordless tools, there is no need to buy several extension cords and run them from an outlet inside your home out to the backyard where you are building a porch. And you'll also avoid the frustration of having the cord pull loose from the wall, stopping your work. You also won't have to worry about your kids tripping over the cords.

Safety: Beyond the tripping and falling hazards extension cords pose, there are also electrocution risks posed by electrical cords. Even though the chance of electrocution is slight, by removing the cord from a circular saw, you eliminate the possibility of the steel blade cutting into the live wires. With cordless tools, you also don't have to worry about electrical wires being exposed as the protective cover wears away from the cord over time.

No electrical access: Construction workers need cordless tools because many job sites don't have electrical access. When working at home, it can be impractical to run several extension cords out to reach a fence or onto your roof. Cordless power tools work anywhere you take them. In addition to tools with rechargeable batteries, some portable power tools, like nail guns, operate by the use of disposable butane cartridges, making them optimal for use where no electricity is available for recharging battery packs.

Working overhead: Cordless drills and reciprocating saws are easier to operate when working overhead than their corded counterparts. Without a cord hanging down and getting underfoot or a cord that blocks the worker's view, you can complete this task with less distraction.

Buy Cordless Power Tools
Back to Guides Directory