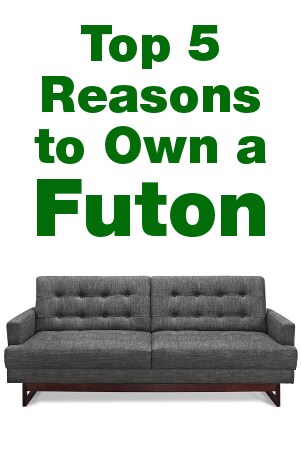 SHOP FUTONS NOW >>
If you're shopping for a new sofa, you'll want to take a look at all the futons that are available. Besides coming in a variety of fabrics and styles, they can add a lot of fucntion to a room, whether it's your living room, family room, or den. Not sure a futon coush is for you? Take a look at these top reason to buy a futon and see if they change your mind.
Reasons to Own a Futon:

You'll have a guest bed as well as plenty of seating. Futons can double as both a sofa and a bed. This handy feature makes them the perfect living room furniture in a casual setting or convenient extra seating in a study or TV room. Unexpected guests will always have a comfortable place to sleep. Your futon can provide the extra seats needed at your next party or family get-together.

You'll get more bang for your buck. Futons are an excellent two-for-one purchase. Because they're made of simple materials and don't have a heavy frame like a couch or the metal springs of traditional mattresses, futons are usually less expensive than a bed or couch. They're designed to last through the wear and tear that comes with sitting and sleeping, so you can count on your futon to last.

They're often sized well for apartments and small homes. Futons are often smaller and leaner than regular sofas. If you need a couch but you don't have a lot of room, you can opt for a futon. They're usually about wide 75-inches wide, which is the length of a full-size bed.

Futons are easy to assemble, disassemble, and relocate. Most futons ship in easy-to-assemble pieces and can be assembled with just a screwdriver or Allen wrench. Plus, they're just as easy to take apart again to move to another room or even a different house. Many futons are lightweight, so if you just need to move one from one side of the room to another, you may not even need someone to help you.

You can find one that suits your decor style. With the growing demand for futons has come a wider selection. While many futons used to only come in either plain black metal or a wooden mission style, you can now find tufted leather futons, mid-century modern futons, contemporary microfiber futons, and more. Many look like regular sofas, and no one would guess that they can fold open into a bed. You can even change your futon's appearance with different futon covers. When the urge to redecorate hits you, all you'll have to do is change the cover.

Shop Futons
Shop Futon Covers
Shop All Living Room Furniture
See All Guides
Read More Furniture Guides
Learn More about Living Room Furniture