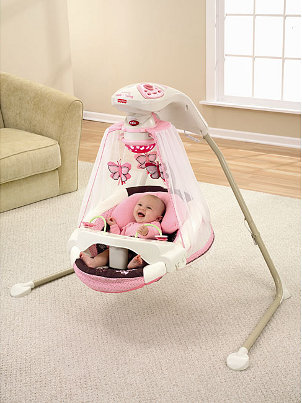 There's lots of baby activity gear out there, and baby swings are one of the most popular baby items you can find. Baby swings are a great way for babies and parents to take a break, but they aren't a necessity like car seats and cribs are. For some, the decision to buy a baby swing is easy, but for parents on a budget or with little space in the home, the choice isn't as easy. If you're stuck between whether to buy extra baby gear, like a baby swing, or not, read on to learn the top 5 reasons to buy baby swings, and maybe the decision will become easier.
Best Reasons to Buy a Baby Swing:

Soothing: A fussy baby isn't happy, and neither are mom and dad. Baby swings and baby bouncers can calm a fussy baby by creating a gentle rocking or bouncing motion that comforts the baby. Even infants with colic will benefit from a baby swing. An infant swing can help settle the stomach and sooth your baby.

Nap time: Not only can a swing or bouncer sooth your baby and lull her to sleep, but it also provides a safe place for your baby to nap during the day. Many parents enjoy having their sleeping baby within sight, and a baby swing does just that. You can even place your baby in the swing to rock her to sleep, and then leave her there until nap time is over.

Hands-free: Being a parent is rewarding, but sometimes you need to get things done around the house. An infant swing offers a safe place for your baby to sleep or play and gives you some hands-free time to do some chores, answer the phone or even work from home. If yard work is on your to-do list, you may want to consider an outdoor swing.

Entertainment: Babies enjoy entertainment as much as we do, and a swing with an attached mobile and toys is a great way to keep your baby entertained during the day. Your baby can enjoy the rocking motion of the swing and play with toys. An outdoor one is even more fun because your baby can enjoy all the sights and sounds of the backyard.

Education: Babies need stimulation to develop and learn, and baby activity gear provides all sorts of new movements, sounds and sights to educate your baby. A swing with attached toys further stimulates your baby as she learns to reach and grab at toys.

Buy Baby Swings
Back to Guides Directory