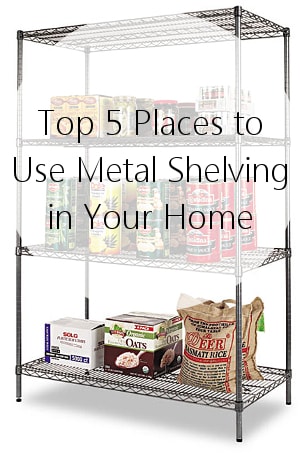 Metal shelving is useful in a number of places throughout your home. It can help foster cleanliness and organization, which are essential to creating a comfortable living or working space. You may think of metal shelves as too industrial for use throughout the home, but they're actually very versatile. While you're creating a storage and organization plan for your home, consider using metal shelving in these five places.
Where to Use Metal Shelving:

In the garage: Your garage may seem full, but chances are you haven't taken advantage of all the vertical space available. Install some tall metal shelving units along one wall and anchor them to the wall studs. Now you can organize tools, sports equipment, and automotive supplies. Lean your ladder against one end of the shelving, so you can always reach the top shelves.

In the pantry: Storing food, cooking supplies, and appliances in the pantry frees up precious cabinet space. If you have a dry, cool room in the basement, you can install metal shelving and store bulk items like flour, rice, and canned goods. Customizable shelving units allow you to build your storage to fit many purposes and can even help you rotate your food storage.

In your office: Metal shelving is ideal for supporting heavy business machines, paper products, and reference libraries. With the right metal shelving to organize your office, you can have an open, uncluttered workspace and still have everything you need within arm's reach.

In your home theater: When you're constructing a home theater room, using metal shelving can be a great behind-the-scenes way to organize components and cables. Steel-wire shelves allow maximum air circulation around high-performance electronics, like projectors and home theater amplifiers. You can hide the shelves behind thick curtains or room dividers if you don't want to see them.

In your workshop: A clean workspace ensures that you can find everything in its place when you need it. Sturdy, adjustable metal shelving lets you organize tools, lumber, and other materials for all your home improvement projects.
What Do You Want to Do Next?

Shop Garage Storage
Shop Kitchen & Pantry Storage
See All Storage & Organization
See All Guides
Read More Home Guides
Learn More about Storage & Organization