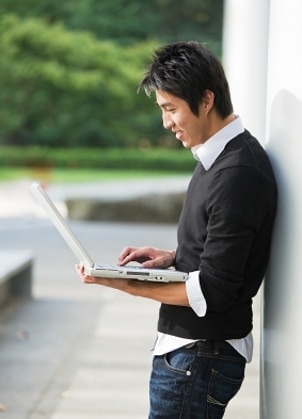 When you're constantly traveling and working on a laptop computer, you may want to consider some on-the-go laptop accessories to make working portably a little easier. Several devices can be used anywhere, and many will fit right into your laptop case. Below are the top five on-the-go computer accessories.
The Top 5 Laptop Accessories:

Flash drive: This handy device is one of the most essential laptop computer accessories for transferring files quickly and easily between computers, printers and other devices. With a flash memory drive in your laptop bag, you can save important projects or synchronize your data on other devices without cables or a network connection. These computer accessories can also be used as backup devices for vital files and programs. All you need is a USB port, which is standard on nearly all laptops.

Laptop mouse: An external laptop mouse can really save your wrist. It allows for improved control and better hand position when you're tired of working with your laptop's built-in track pad. These miniature computer accessories are compact and work through a USB port or wireless connection.

Webcam: Webcams are becoming increasingly useful computer accessories for travelers and business people. Make video conference calls, video chat with friends and family at home or simply make video memos to yourself as reminders for later. If your laptop doesn't have one of these computer accessories built in, you can connect one via a USB port.

Laptop cooling desk: Laptops can run a bit hot, especially if you're running multiple programs or watching video. A great way to prevent overheating is to carry laptop accessories like a portable laptop cooling desk or fan in your case. Not only do these helpful tools keep laptops cool; these computer accessories also angle your computer to a more comfortable working position.

Power computer accessories: You can't work without power, and it isn't always convenient to plug in when you're traveling. Spare laptop batteries and computer accessories like adapters can help you avoid running out of power in the middle of an important project. Be sure to carry an adapter if you're traveling internationally with your laptop.

Buy Laptop Accessories
Back to Guides Directory