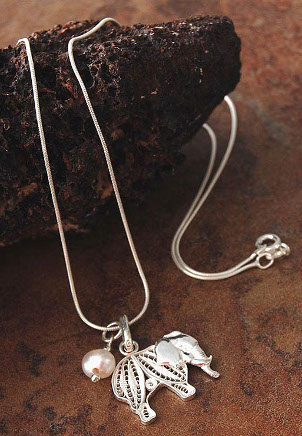 Though jewelry is essential for dressing up, it can also be fun to wear with casual outfits. Pendant necklaces are perfect for casual wear because they are often subtle and there are so many to choose from. Many necklaces can be worn daily, and almost any chain necklace is easily embellished with a variety of jewelry pendants and necklace charms. Pendants on a short chain will draw attention to your face, while necklace pendants on a long chain can elongate your body. You truly need an assortment of necklace pendants to bring your outfits to life. Start your collection with our top five casual pendant necklaces.
Casual Necklace Pendants with Style:

Animals and insects: Pendants shaped like animals and insects offer laid-back style while connecting to you nature and all living things. A sparkling black diamond cat necklace charm will show off your love of felines, and a pretty gemstone-studded bumblebee jewelry pendant is whimsical and eye-catching. Pendants shaped like dragons, ladybugs, horses, frogs, butterflies, fish, turtles, birds, dogs, dragonflies, lizards, wolves, crabs and bears are all great jewelry choices for casual wear.

Hearts: Many heart pendants are fancy, diamond-covered pieces; these pieces of heart jewelry are often given as romantic gifts. You can buy heart pendants for yourself, and simple necklace pendants made of sterling silver or gold are perfect for pairing with jeans and tank tops. Cutout heart pendants, petite heart pendants and yellow gold heart pendants are simple and romantic. Some heart pendants feature a peace sign in the center. Choose heart necklace pendants that speak to you and wear them as often as you like.

Gemstones: Gemstones are often considered expensive and extravagant, but many gemstones are ideal for casual jewelry. Gemstones such as jade, malachite, onyx, turquoise, coral and quartz make perfect casual necklace pendants. Some of these gems can be tumbled into large stone beads or carved into intricate shapes and designs. Try wearing a gemstone pendant on a leather cord or colorful string for an even more laid-back vibe.

Cameos: Cameos may have started their life as a formal accessory, but today they can be worn casually as well. Choose cameo pendants with a decidedly modern look, forgoing ornate pink and gold cameos and opting for blue, black and white cameos set in sterling silver. These necklace pendants can often be worn as pins and hair accessories as well.

Glass: Glass is fairly new to the jewelry world, due to its fragility. Glassmaking does have a rich history, however, especially in the Murano Islands in Northern Italy. Murano glass jewelry is still available today, and many pieces are highly sought after. Glass necklace pendants are available in many styles and prices ranges, and these beautiful pieces sparkle and shine with plenty of color. Consider glass pendants shaped like hearts, simple shapes, beaded clusters and stars, which will all diversify your necklace collection.

Buy Pendant Necklaces
Back to Guides Directory