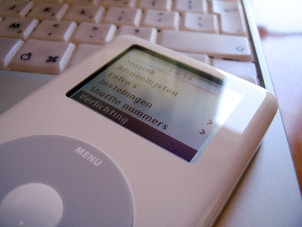 Moving all of your music to your MP3 player has made your music portable, and now your life has a soundtrack! But don't stop there. There are a whole lot of MP3 and iPod accessories for you to choose from. Maybe you want to hear your music through something besides your earbuds, or maybe you're simply looking for MP3 accessories that make using your MP3 player easier. Either way, you'll want to check out these top five MP3 accessories to make sure you have the basics covered.
The Top 5:

Headphones. If you're still using the earbuds that came with your MP3 player, you may not be getting the best sound quality. It may be time to upgrade to some silicone earbuds for comfort, or even some noise-cancelling headphones to shut out the rest of the world so it's just you and your music. If you're ready forMP3 accessories that will maximize your MP3 player, headphones may be your best bet.

MP3 chargers. You can't always be at home to charge your MP3 player. You may want to make sure you have other charging options, like an MP3 car charger or an MP3 travel adapter charger. Chargers are common sense MP3 accessories that you don't want to be without.

Adapters. If you haven't already, it may be time to get an MP3 adapter for your vehicle. Adapters are MP3 accessories that transmit your music from your MP3 player to your car audio system. There are lots of options: an MP3 FM transmitter, a headphone jack to line-in cable or even a tape-deck adapter. Check out your car audio system and find out which MP3 adapter will work for you.

Cases. Portability is the greatest feature of any MP3 player. But without the right MP3 accessories for protection, it can get scratched or broken. Leather, silicon or padded MP3 cases are basic MP3 accessories.

Docks and speaker systems. You have to charge it sometime! Turn your MP3 player into a clock radio or boom box with an MP3 player dock. Docks, or "cradles," are MP3 accessories that hold and play your MP3 player while it charges. These MP3 accessories help you power it up without stopping the music.

View All MP3 and iPod Accessories
Back to Guides Directory