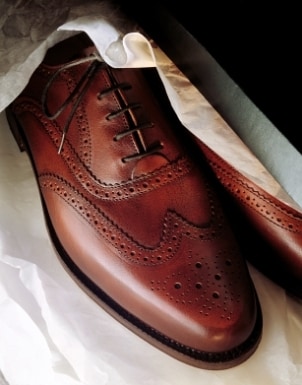 Wearing a tuxedo, suit, dress pants or even jeans? Men's oxfords are the perfect men's shoes to wear with a variety of different outfits. Known for their familiar lace-up style and leather, vinyl or suede construction, men's oxfords are a great way to complete your wardrobe. Read on for the top 5 men's oxfords and ways to wear them.
Favorite Men's Oxfords:

Wingtips: The men's wingtip is a classic shoe style made of smooth leather or suede with a distinctive tooling pattern across the toe that resembles a pair of wings. Purchase the men's wingtip to wear with a tailored suit or dress pants for a stylish look. Wingtips made of suede or distressed leather have a more casual look and are the perfect complement to corduroy dress pants or even dark-wash jeans. These leather oxfords are also known as men's brogue shoes in Great Britain because of the "brogueing," punched patterns, that form the wing shapes. Men's brogue shoes often feature a more prominent wingtip design.

Tuxedo shoes: Despite their name, tuxedo shoes are not meant solely for wear with a tuxedo or particularly dressy clothing. Tuxedo shoes are usually made of patent leather, particularly nice if you want a shiny material, and the toe is simple and clean with no trim, seams or patterns. Men's black oxfords in a tuxedo style look great with formalwear, but shoes made of leather or suede also look great with a fitted suit or dress pants. Casual black oxfords with the straight tuxedo toe can also be worn with jeans.

Saddle shoes: Made popular in the 1950s, saddle oxfords feature two-toned leather uppers, traditionally white and black. Their vintage look is appealing, especially when worn with a seersucker suit or a similar retro look. If you like the look of saddle oxfords but want a more subdued shoe, look for men's black oxfords with brown upper patches. White saddle shoes with grey uppers are also classic and look especially nice on the golf course.

Cap toe oxfords: Named for the thick seam that "cuts" the toe in half, cap toe oxfords are stylish and a great addition to dress pants or a tailored suit for the office. Look for black oxfords you can wear with navy blue or black dress pants for a polished look, and purchase cap toe oxfords made of patent leather for a smooth, shiny style you can wear with dressier outfits.

Bluchers: These oxfords feature a straight toe with open lacing and are thought of as a casual style of the traditional straight-laced leather oxfords. Bluchers look great with khaki pants, dress pants and even jeans.

Buy Oxfords
Back to Guides Directory