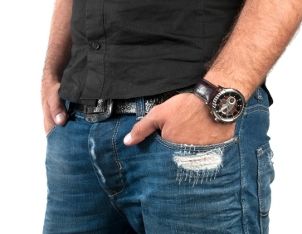 You're stuck in a suit and tie at work, but at home, men's jeans are your choice for comfort and versatility. You might have some questions, however, about the jeans that look best on you and the ones that are most appropriate for various occasions. Fortunately, we have answers for you, whether you want men's designer jeans, men's straight-leg jeans or even men's skinny jeans. Read on for the top 5 men's jeans.
The Top 5 Men's Jeans:

Low-rise. This men's denim style has a modern fit, with a waistband that hugs the hips and sits a few inches below the belly button. Men's low-rise jeans look good on men of many different shapes; if you have a curvy stomach, however, you may want to look for jeans with a higher rise so that the waistband doesn't make you uncomfortable. Wear men's low-rise jeans with a T-shirt and casual sneakers for a laid-back look.

Straight-leg. For a classic, timeless look that will never go out of style, you'll want to buy a pair of men's straight-leg jeans. With legs that fall straight from the hip, straight-leg jeans give you a great fit that doesn't taper or flare at the ankles. These jeans are flattering on everyone, and their simple cut can be dressed up with stylish sweaters and blazers. Choose dark jeans in this fit for a work-appropriate outfit.

Boot-cut. Designed with slim legs that flare slightly at the hem, men's boot-cut jeans are perfect for dressier outfits, especially if you're wearing boots or shoes with thick soles. If you're willing to splurge on men's designer jeans, you'll treat yourself to premium denim, the latest washes and great fits. Designers often put their special touches on men's denim, so you can often look forward to jeans with embellished pockets, contrasting stitching and distressed patches. Show off designer men's boot-cut jeans by keeping other clothing and accessories simple, such as solid T-shirts and button-ups and classic oxfords.

Loose-fit. While baggy pants can make you look shapeless, men's loose-fit jeans can be a great option for men with thicker legs or a bulky athletic build. Avoid wearing men's loose-fit jeans if you're very thin, as the jeans will overwhelm your frame, and make sure to find styles that fit well in the waist for a comfortable, stylish fit. These jeans are more casual, so add a T-shirt, hoodie and your favorite athletic shoes to finish off the look.

Skinny. Rock a trendy style by wearing men's skinny jeans; these jeans are available in a variety of colors and washes. While skinny jeans are typically very casual and often worn with sneakers and fitted T-shirts, you can dress dark jeans up easily by wearing a blazer and shiny dress shoes. If you worry about the close cut of skinny jeans and whether it works well with your frame, try a pair of slim men's designer jeans. You can still get a stylish fit, but you'll have a cut that's more forgiving.

Buy Men's Jeans
Back to Guides Directory