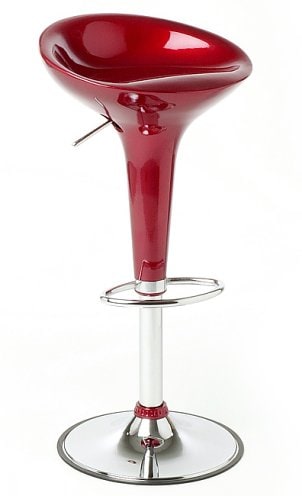 Whether you need seating at a kitchen counter, breakfast bar or bar table, bar stools solve your seating crisis. Bar stools are available in many styles and come in leather, wood, plastic, metal and other materials. You can even find bar stools upholstered in fabrics of every color, which means that you can match any room in your home. With so many possibilities available, it's good to know what the top five materials for bar stools are in order to make a decision on what will work best in your home.
The Top 5 Materials for Barstools:

Wood. Although most bar stools are made of hard rubber-wood for durability, you can also find bar stools made of teak wood, wicker, rattan and many other woods and canes. Wood bar stools create a traditional look for any kitchen or bar. Wooden bar stools make your room seem warmer and look more inviting. Another plus side is that wooden bar stools are easy to clean and maintain.

Metal. Metal bar stools are popular for outdoor use and contemporary styles. Wrought-iron stools are weather-resistant and safe to use outdoors, and their heavy-duty material makes them extremely difficult to damage. If you're looking for a lighter bar stool, there are also contemporary designs made for indoor use, such as artistic aluminum and stainless steel bar stools. Metal bar stools are easy to clean and care for as well.

Upholstery. Upholstered bar stools are great for comfort and style. Upholstered bar stools can be covered in leather, vinyl, faux suede or linen. They're excellent for adding a touch of class and sophistication to a room. Upholstered bar stools also create a more inviting atmosphere for kitchens and entertainment areas. Upholstered bar stools are easy to clean if you catch spills right after they happen.

Plastic. For a more modern look, use plastic bar stools. They add a contemporary feel to any room and are also extremely durable. Plastic bar stools are often available in a wide variety of colors. Plastic bar stools are easy to clean; all you have to do is wipe them down with a damp cloth.

Recycled materials. Whether made from recycled aluminum, plastic, wood or metal, these types of bar stools are the newest trend on the market. Recycled bar stools crafted from eco-friendly materials allow you to decorate your home and help the earth simultaneously.

Buy Bar Stools
Back to Guides Directory