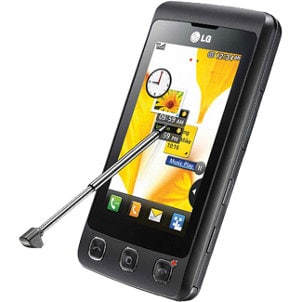 Some electronics are fun and easy to use, and some are simply necessities. Cell phones are portable electronics that fit into both categories. When you're looking at new or replacement mobile phones, one great brand to look at is LG. LG cell phones are packed with features and offer everything from touch-screens to high-resolution cameras. To help you in your shopping for cellular phones, here are five of the top LG cell phones and some of their features.
The Top 5 LG Cell Phones:

LG KP500 Cookie: This phone has one of the largest touch-screens of LG cell phones on the list: 3 inches wide and nearly 4 inches tall. The auto-rotating display shifts depending on how you're using the phone. The cell phone stylus is embedded in the phone to help you keep track of it. Message, email, enjoy music and video and more with this high-end LG phone. With an impressive 3.15-megapixel camera for video and photos, this is one of the most versatile LG cell phones available.

LG KS360: LG makes some great messaging phones. This phone features a full, slider QWERTY keyboard and a display that flips, depending on which position you're using the cell phone in. This phone also has plenty of memory and an expansion slot for a memory card. Of all the LG phones, this one is one of the most message- and talk-friendly, supporting up to five hours of talk time.

LG MG800: This is one of several LG music-player phones. It makes the list because of its stylish design, touch-sensitive and form-feature controls and the 1.3-megapixel camera that shoots video and takes photos.

LG GM730: There are a few LG cell phones that feature extremely high resolutions, and the GM730 is one of them. The cell phone features a 5-megapixel camera and a 240 x 400 pixel touch-screen. This model is a GPS and Wi-Fi enabled LG phone, as well. You also get FM radio, video and music playback. On top of it all, it has one of the best talk times of these top five LG cell phones: five hours.

LG KU990 Viewty: This LG phone features a big touch-screen with handwriting recognition, a 5-megapixel camera for shooting video and snapshots, and a microSD memory expansion slot. With one of the longest talk times of the phones on this list, just under six hours, it's one of the better equipped LG cell phones.

Buy LG Cell Phones
Back to Guides Directory