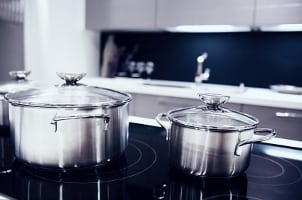 Some of the best designed and most durable appliances come from LG. Whether you're updating your washer and dryer or refitting your home with all new kitchen appliances, LG appliances can provide you with the features and style to complement your design. Here are some of the highlights for the top five LG large appliances to help you get an idea of how LG appliances can add to your home.
Top LG Appliances:

Washers and dryers: All LG appliances have style, but LG washers and dryers look like they belong on display in the living room rather than your laundry room. The front-loading, electric steam dryer is energy-efficient and has an extra-large capacity for big loads. And the washers can hold large laundry loads, spinning at speeds up to 1200 rpm.

Refrigerators: Fridges are the stars of the LG appliances. You have your pick from several styles of LG refrigerators with various door designs and capacities. Choose a stainless steel, French door model with double freezer drawers. Or maybe your kitchen will do better with a white, side-by-side fridge with a built-in icemaker in the door.

Ranges: While you're looking for LG appliances in the kitchen, you might fall in love with the stainless steel gas and electric ranges and ovens. Some kitchen ranges feature up to five burners, rather than the standard four. And amazing induction-range technology can heat your pans instead of the stovetop. All of these LG appliances are rated for energy efficiency, and they look great.

Microwaves: Your kitchen set of LG appliances will be complete with a matching microwave. An under-cabinet microwave with a hidden vent system will save you counter space and is easy to use.

Dishwashers: A quiet, efficient dishwasher is a nice addition to any kitchen. But the style of LG appliances makes the dishwasher's profile sleek and modern, and the interior is strategically designed to fit the maximum number of dishes.

Buy LG Large Appliances
Back to Guides Directory