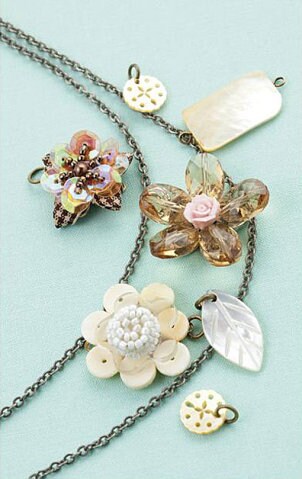 Whether you're creating a collection of jewelry and beading supplies or just updating your jewelry kits with fresh jewelry tools, it can help to have a reference point to look at when you're unsure of the jewelry supplies you need. Fortunately, this guide lists the top five jewelry supplies you'll need to get started on almost any project. Read on for the tips you need on jewelry-making supplies and dive in. Beautiful necklaces, watches, bracelets and earrings are right at your fingertips.
Popular Jewelry-making Tools:

Beads. To create stunning earrings, watches and other jewelry pieces, beads and beading supplies are absolutely necessary. You're not limited to traditional round or plastic beads, either: beads today can be made of glass, crystal, wood, clay, rock and many other materials. If you're a novice to jewelry making, you'll probably want to start your collection with beads in colors you like best so you're sure to use them. Determine which beads work best with your personal style, too, before beading jewelry: Clay and wood beads will allow you to create an earthy look, while crystal and glass beads will give you a more glamorous, dressy vibe.

Cording. Making necklaces, bracelets and anklets is impossible without proper cording. If you want to make a simple macrame necklace or bracelet, purchase jewelry kits that include natural cording and beads. Elastic cording is best for children to use when beading jewelry because it stretches and ties easily. Buy leather or suede cording for a Bohemian look or find delicate nylon or satin cord to use with elegant jewelry-making supplies, such as iridescent crystal beads and pretty birthstone pendants.

Pliers. For grabbing beads, twisting and shaping wire and removing clasps and other jewelry findings, nothing beats a sturdy pair of pliers. Look for jewelry-making tools that include easy-to-grip rubber handles for simple use. Consider the different types of pliers you may need for your jewelry-making kits. Cutting pliers will quickly snip wire when you're making necklaces or earrings, and crimping pliers allow you to easily hold beads. Both types of pliers will make great jewelry tools for your collection.

Wire. Whether you want to create earrings by hand or wrap wire around gems and beads to create beautiful pendants, you'll want flexible wire among your jewelry-making tools. Purchase soft aluminum wire you can shape easily or look for hard sterling-silver wire for wire-wrapping projects. Memory wire is also a great addition to beading supplies because it holds its shape while you string beads and spacers along it.

Findings. This category encompasses all of the finishing touches you need, including clasps, headpins, jump rings, links and earring hooks. When your necklace, bracelet or pair of earrings is nearly complete, you'll want to have the appropriate jewelry findings on hand. You can often purchase jewelry-making kits that include beads, cording and findings for convenience.

Buy Jewelry and Beading Supplies
Back to Guides Directory