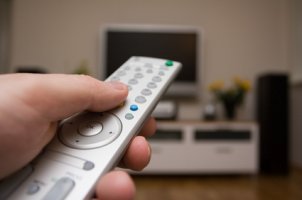 All the complicated specs and the tech jargon can be confusing, but you don't need to have an engineering degree to get the basics of home theater electronics. If you have just a few of the right pieces, you can put together your own quality home theater. Here are the top five home theater electronics to create the entertainment experience of your dreams.
The Top 5:

Blu-ray disc player. If you haven't already, now may be a great time to upgrade to a Blu-ray disc player. Both the players themselves and Blu-ray discs have dropped in price since they first appeared. Blu-ray provides high-definition picture and sound that just can't fit onto DVDs. Connecting a Blu-ray to your other home theater electronics may be the smartest move you've ever made for your entertainment system.

Surround sound. Installing a 5.1 or even a 7.1 digital surround-sound system can bring movie theater audio into your home theater room. Be sure to add a subwoofer to make sure you feel, not just hear, those low-frequency sounds, like explosions and heavy bass. Surround sound will bring out the full potential in your other home theater electronics.

Home theater receiver. The receiver is the central control point for all your home theater electronics. Use HDMI cables to connect your Blu-ray player, surround sound and other peripherals into your home theater receiver and you'll be feeling, not just hearing, HD surround sound with some power behind it. A home theater receiver is a great way to take full advantage of all your other home theater electronics.

HD plasma or LCD TV. A great way to display that HD digital picture from a Blu-ray player is with a widescreen plasma or LCD TV. These sleek, flat panel TVs use significantly less energy than their old tube TV counterparts. You'll also get a depth of color and resolution that simply isn't possible with standard-definition TV.

Home theater computer. You may not think of a computer in the same category as home theater electronics; however, most HDTVs have connections capable of interfacing with computers. Add a large hard drive, wireless keyboard or mouse and digital video recording software to handle all your movies and TV shows. You can even browse the Internet and play online games in full HD picture and sound from the comfort of your couch.
Tips:

When working with any electronics, follow all safety instructions that come with the tools you use and the home theater electronics you are installing.

Check the specifications on all your home theater electronics to make sure they are compatible. You don't want to buy a surround-sound system only to find out that your Blu-ray player can't connect to it with an HDMI cable.

View All Audio and Video
Back to Guides Directory