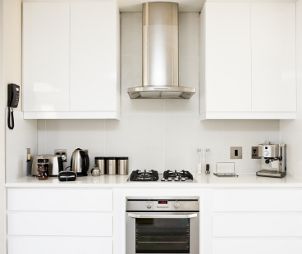 Make preparing and reheating meals even easier when you buy home appliances for your kitchen. While your refrigerator and stove do most of the hard work, there are a few appliances that can simplify your life and save you valuable time -- and you can often buy home appliances at incredibly affordable prices online. Read on for the top five home appliances you can use in the kitchen.
Essential Kitchen Appliances:

Kitchen mixer: While some recipes require hand mixing to achieve a certain texture, you can whip up many batters and doughs quickly with a durable kitchen mixer. These kitchen appliances come in many sizes, so you'll need to consider the type of cooking and baking you do most before buying a mixer. Look for a heavy-duty kitchen mixer with a large stainless steel bowl and a high-wattage motor if you bake a lot of bread or buy home appliance models that include sturdy beaters and whisks if you frequently make cakes or pies. The best kitchen appliances will match the style of your kitchen and will be easy to use.

Slow cooker: If you work full-time or want a simple, low-maintenance way to cook meals, you'll definitely want to buy a slow cooker. It's easy to cook soups, roasts, casseroles and even desserts in these handy appliances, which come in small 1.5-quart sizes and even increase to large 8.5-quart sizes. Look for slow cookers with removable pots for easy cleanup, and make sure to find slow cookers with several cooking settings so your meals will be ready when you and your family are ready. You'll also want to buy kitchen appliances, including large slow cookers, that include sturdy handles if you plan to carry them to the table or take them to a party.

Toaster: When you're running out the door in the morning and need a quick breakfast, your toaster can be a lifesaver. You can toast up to six slices of bread at a time with some of these small kitchen appliances, enough for the entire family. Look for a chrome or stainless steel toaster for a modern look that is easy to keep clean and looking new; you can also find toasters with wide slots for toasting bagels and thick English muffins. Buy kitchen appliances that feature defrost functions for frozen pastries.

Blender: Making smoothies and milkshakes is simple when you buy these kitchen appliances. Look for a blender that includes a sturdy glass or plastic pouring jar with built-in measuring tabs. These small kitchen appliances often feature five speeds and have the ability to easily crush ice and puree even the toughest fruits and vegetables. Make sure the blender you buy also has a lid that fits securely on the pouring jar; blenders are among the best kitchen appliances for whipping up creamy mixtures to use in your creations.

Microwave: You can use your oven to reheat leftovers, but why not save time and use a microwave to do the job? Most microwaves take up about two cubic feet of space, but you can also find these small home appliances in half-cubic sizes for a tiny dorm or apartment. If these microwaves don't appeal to you or you don't want your small home appliances to take up valuable counter space, you can mount a microwave above your stove.

Buy Appliances
Back to Guides Directory