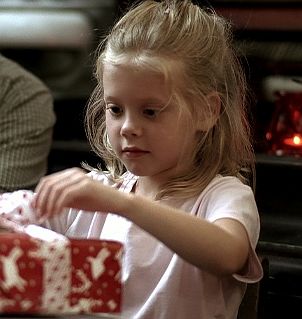 Things You Need:
Pictures
Paper
Photo album
Crayons
Paint
Glitter
Ribbon
Picture frame
Beads
Apron
Canvas bag
Craft foam
Scissors
Magnet strip
Glue
What grandparent doesn't treasure handmade keepsakes from their grandchildren? These gifts are often the most valuable to the adult, and making personalized crafts creates special memories for the children as well. If you are looking for gift ideas that your child can enjoy making for their grandparents for Christmas, a birthday or another special day, then this can help you get started. Whether they are made-from-scratch knickknacks or treasured mementos, handmade gifts from the youngest family members are always appreciated.
The Top 5 Gifts:

Scrapbooks are always great gifts, especially when they are made by children. You no doubt have a stack of photos that have been accumulating throughout the year. School photos, holiday pictures, vacation snapshots and birthday memories are all great to use in a grandparent's scrapbook. Allow the children to select their favorite pictures from the year and then work together to creatively mount these photos in a small scrapbook. Include descriptions of the events and a list of some of the youngsters' favorite memories. Then encourage the children to decorate the scrapbook with crayons, paint, glitter, ribbon and other embellishments to make the gift personal.

Something as simple as a child's heartfelt expressions can make the most treasured gifts for grandparents. Ask school-age children to write a special story or poem for their grandparents. The children can also draw pictures to accompany the writing. You can then mount and frame the work and include the date that the poem or story was written and the age of the child at the time. If several children are contributing original works, take all of the poems or stories to a local copy store and have them bound together as a special gift book.

Aprons, bags and other useful items can be decorated by children to make a special gift. For a simple gift idea that will let your children get as creative as they like, purchase a plain white apron or canvas bag and encourage the kids to personalize the gift with paints and other embellishments. Younger children might like to put their handprints on the apron or bag, while older kids can write a poem or sign their name. Many other home items can be used to make gifts in this manner.

Ornaments to decorate their grandparents' Christmas tree make wonderful gifts for children to create and give. Children can make many different varieties of Christmas tree ornaments for their grandparents. Beaded ornaments can be very simple and also look beautiful hanging on a Christmas tree, with the beads catching the light. Ornaments made from children's photos and artwork will also be fun for grandparents to hang on their tree year after year.

Refrigerator magnets are something that everyone can use and will remind grandparents of their grandchild's love throughout the year. To help your child make a simple refrigerator magnet, start with craft foam and a small photo of the child. Help the child trace his hand twice on pieces of craft foam and let him cut the handprints out. Then you can cut out a small circle in the middle of one of the handprints using a half dollar coin as a pattern. This circular opening will form a picture frame for a current photo of the child. Use a glue stick to attach the photo, face down, to the backside of the first foam handprint. The photo should be visible through the circular opening. Glue the second handprint to the back of the picture frame handprint, sandwiching the photo in the middle of the two foam pieces. Attach a magnet strip to the back and encourage your child to decorate the magnet for a gift that has many layers of sentimentality.

Buy Kids' Crafts
Back to Guides Directory