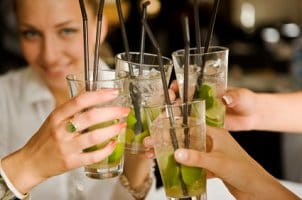 Finding the perfect gift for a bachelorette party can be tricky, as the occasion is usually sandwiched between the bridal shower and the wedding. While gag gifts are popular, some brides-to-be prefer useful, practical presents at their bachelorette party. Things that can be used at the wedding or after the couple starts their life together might be best-suited for the bride in your life. Consider these top five bachelorette gifts.
Bachelorette Party Gifts:

Lingerie: Forgoing tacky, embarrassing bachelorette party gifts doesn't mean doing away with traditional lingerie. All new brides can use some tasteful lingerie items for their honeymoon and marriage. When choosing lingerie, keep in mind the style preferences of the bride-to-be and choose something she would actually wear.

Bath products: Getting ready for a wedding takes months of planning and preparation, which can add up to a lot of stress for the bride-to-be. Help her de-stress with a luxurious bath gift basket. Compile a collection of her favorite bath products, including bubble bath, bath oils and gels and aromatherapy products. Add a few of your favorite scented, calming candles to the bachelorette gift.

Picture frames: Picture frames rank high as bachelorette party gifts. A collection of matching picture frames of different sizes is a good choice. It will allow the bride to frame an array of different-sized portraits and candid shots from her wedding. You can also purchase a few fun frames that can be designated for group shots from the bachelorette party.

Barware: Shot, martini, margarita and wine glasses all make good choices for a bride-to-be, while shakers, barware sets and drink mixes are also good options. These items will give hip brides a great reason to host cool housewarming cocktail parties. Keep in mind the favorite drinks of the couple when choosing the barware.

Wedding necessities: A bride-to-be has to do a lot of work to prepare for her wedding day, including purchasing the day's necessities, such as a guestbook, garter and toasting flutes. Help take some of the pre-wedding load off the bride by giving some of these items as gifts at her bachelorette party. If you're close to the bride, you may even know which pieces of wedding day jewelry she has been coveting.

Buy Gifts
Back to Guides Directory