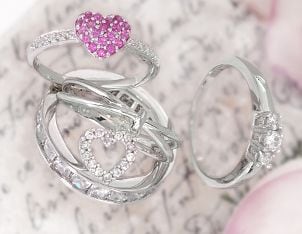 Wearing diamonds isn't just for the engaged and the wealthy. Trendy diamond rings are popping up on the fingers of fashionable women everywhere. You don't have to limit yourself when shopping for diamond jewelry. Fashion rings decorated with diamonds are available in a wide assortment of styles, and each diamond ring will add personality and flair to your wardrobe. Select rings that will set you apart from the crowd when shopping for diamond jewelry. These diamond fashion ring trends might be just the thing you need to accessorize your eclectic wardrobe.
5 Trendy Diamond Ring Styles:

Initials: A diamond ring featuring your initial is very modern. This piece of personalized fashion jewelry features pave diamonds that form a letter. Choose your initial or the initial of a loved one when shopping for this piece of eye-catching jewelry.

Intertwined bands: With the look of stackable rings and the comfort of one solid band, intertwined diamond band rings are a rising fashion jewelry trend. These diamond rings have a lot of texture, especially when they are splashed with sparkling gems. Throw on an intertwined band diamond ring on your way out the door; these rings can be worn with everything you own.

Colored diamonds: Celebrities made yellow, pink and blue diamond rings popular about a decade ago, and you can benefit from the trendy nature of these beautiful pieces of jewelry. Some colored diamonds are naturally brightly colored, while others are enhanced. Both types are absolutely stunning in a fashion ring.

Heirloom styles: Whether authentic antique rings from an estate sale or vintage rings from a contemporary designer, heirloom diamond rings are bold and beautiful. This diamond ring trend stems from the consumer's craving for unique identity. Make your mark with an estate diamond ring or vintage fashion ring.

Rings as pendants: Made famous by fashionistas on hip television shows, diamond rings worn as pendants offer a fresh take on wearing fashion jewelry. Solitaire diamond rings look best in this style because their shape is distinct. Wear several diamond rings on one long chain or one bold fashion ring on a short ribbon.

Buy Diamond Rings
Back to Guides Directory