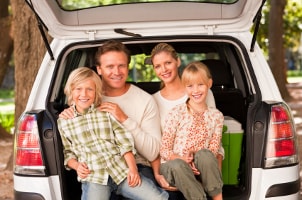 On a road trip, getting to where you're going is half the fun. The drawback to flying to your destination is missing all the unique stops along the way. Driving vacations can be a great adventure for kids, so create a more memorable holiday this year by consulting the travel guides and mapping out your own family road trip.
Memorable Road Trips:

Pacific Coast Highway: Whether you drive a short portion of Highway 1 or you drive the whole length, there is plenty to see and do along this route. Make sure to allow plenty of time for side trips, like a short hike through the redwood forests or a beach picnic. Before you begin a long road trip, read our Road Trip Checklist to make sure your car and family are prepared for the drive.

Route 66: Once known as America's Main Street, Route 66 still intrigues travelers who love to explore the country's highways at a leisurely pace. The route extends from Chicago to Los Angeles, and the change in natural scenery alone is awe-inspiring. Add to that the iconic small towns, diners, landmarks and nostalgic sense of freedom offered by the open road and you have a great American road trip in the making. Even if you just travel part of the route, you'll find plenty of activities for the family -- especially outdoors. This trip has plenty of opportunities for side trips, so make sure you have a reliable navigation system for your car.

History trip: Your family road trip can be educational and fun at the same time. Choose a topic in American history, such as the Revolutionary War or Lewis and Clark's journey; then check the history books and chart a road trip around battlefields and historic sites. Visiting these sites will make the history lesson more tangible.

Theme road trip: Let your interests guide your course. For example, you could explore unusual museums, vintage car shows, minor league ball parks or summer food festivals. Aim to visit all the national parks in your state or region. Plan to visit famous ghost towns in the southwest. This type of family vacation can be as simple or elaborate as you choose to make it.

Photo scavenger hunt: Put a fun twist on an ordinary road trip by preparing a list of scavenger hunt items before you leave home. Choose things like state-line signs and landmarks, some more obscure items and things found at stops along the route. Give a list and a camera to each kid, so they can keep track of their own finds. Award points for each find -- extra points for celebrity sightings or multiples -- and have prizes available. Have the kids help you put the photos in a scrapbook at the end of the trip.
What Do You Want to Do Next?

Shop for U.S. Travel Guides
Shop for Luggage
Shop for GPS Navigation
See All Guides
Read More Luggage Guides
Get More Travel Tips