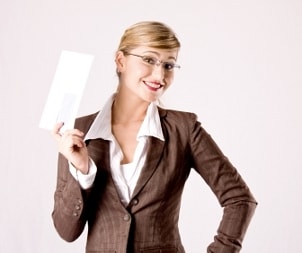 Whether you work from home or at a corporate office, it can be easy to overlook little things, like basic office supplies. Nearly every office exchanges documents, invoices and other correspondence with clients and partners. So, a variety of basic envelopes and mailers can help make mailing and shipping easier. Here are the top five envelopes to keep close at hand.
Basic Types of Envelopes:

Business envelopes: Ideal for general correspondence and invoices, these paper envelopes are probably the most heavily used in the office. Using business envelopes with transparent windows can speed up mailing, so you won't need to reprint the address.

Catalog envelopes: These large-format envelopes are used for larger pamphlets or catalogs of more than a few pages that can't be folded. Many catalog envelopes have adhesive strips on the lip for a reliable seal.

Rigid first-class mailers: These are best used for photos and important documents that need to stay pristine during shipping. These mailers are usually made from semi-gloss coated cardboard to be somewhat moisture resistant. The front of the rigid mailer may include a waterproof plastic pocket for holding the shipping label.

Clasp envelopes: A small metal clasp holds the manila envelope closed without adhesive; however, an adhesive strip is usually also included. These are best for holding materials together rather than for mailing, and they're reusable. Put together a packet or other collection of documents to be distributed to the office and enclose each group of materials in a clasp envelope to be handed out.

Expandable envelopes: Expandable envelopes are the way to go if you need to ship a large document that may be more than one-fourth of an inch thick. These are usually made from tear-resistant paper or other materials and feature sides which can be unfolded to open wider.

Buy Envelopes and Mailers
Back to Guides Directory