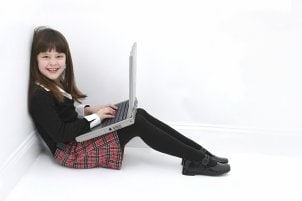 Are you thinking of getting an electronic gift for the young technophile in your life, but you're not sure what to get? Consider the age and the interests of who you're buying for. Think about what they already have and similar devices they may want. Of all the popular electronics gifts, consider giving these top five electronics gifts.
The Top 5 Electronic Gifts:

Media Players: Even though they're for all ages, a portable media player can be a great gift for the younger electronics enthusiast. They are compact devices, and they're easy to carry and use. A portable player lets them take their music or videos without the hassle of more bulky electronic devices, so it's an ideal gift for the young technophile on the move. Don't forget the headphones!

Laptop Computers: A laptop or notebook computer is a gift that can't fail to please. They are powerful, portable devices that make organizing easier. With a laptop or notebook computer, they can access the Internet, play video games, listen to music or do homework anywhere, anytime. You can also find plenty of inexpensive accessory devices to make using their mobile device as easy as using a home computer.

Video Game Consoles: Some of the most popular electronics out there are video game consoles. Their portable counterparts, mobile gaming devices, are a must have as well. Video game technology is driving the electronics industry and has come leaps and bounds since the original consoles of the 1970s. Each console or portable device has its own benefits, so personal preference should determine which console is the best gift. Many young technophiles collect multiple consoles and portable devices, so they can use multiple games and features.

Cell Phones: One portable device that never fails to be popular with young people is the cell phone. They combine multiple electronic devices into one easy gift. More and more teens and grade school kids are getting cell phones to stay in touch with friends and family. And more parents are using them to stay in touch with their kids. For teens and young adults, consider a cell phone with multiple features, such as video and audio recording, a music and video player, texting, games and Web browsing. For younger kids, consider basic mobile device features, such as standard texting, Web browsing and games.

Digital Cameras: For the budding photographer, consider a digital camera. They are portable, loaded with features and make a great electronics gift for artistic technophiles. Digital cameras can be used for anything from vacation pictures to professional photography. More casual digital cameras don't require much knowledge to use: Just point and click. Digital cameras with more advanced features are geared towards those who want to take professional quality photos. Many digital cameras even have video and audio recording options. Now anyone can make professional quality movies and photos without bulky editing electronics and film developing equipment.
Tip:

Don't feel overwhelmed by all the choices for electronic devices. Whether the person you're buying for is into video games, music or just a general electronics buff, the right gift is out there.

Buy Electronics
Back to Guides Directory