Top 5 Dr. Seuss Books
by Paul Sanders
Limiting this list to just five of Dr. Seuss's classic children's books undoubtedly leaves out more than a few favorites. Readers of all ages have been affected by the insightful subject matter, unforgettable illustrations and ironic poetry that characterize Dr. Seuss books, and everyone has their favorite. These five titles are just a few of the essential kids' books by Dr. Seuss that you'll want to add to your children's library. Here are the top five Dr. Seuss books.
Classic Books by Dr. Seuss: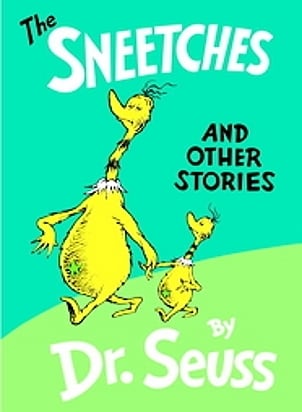 Shop Children's Books ▸
"The Cat in the Hat":

Possibly the most recognizable of all Dr. Seuss books, "The Cat in the Hat" has been translated into both live-action and animated versions for TV and the big screen. Dr. Seuss spins a story that circles around two young children who are stuck inside on a rainy day until the Cat in the Hat arrives and turns their house upside down with chaotic rhymes and ridiculous destruction, fixing everything just before the children's mother returns home. This Doctor Seuss book perfectly illustrates a child's desire for fun that's not limited by rules, or even reality.

"Green Eggs and Ham":

Some Dr. Seuss books cross the border into the absurdly funny, which is where "Green Eggs and Ham" takes young readers. The main character is -- like so many kids -- unwilling to try a new food and is hounded by Sam I Am, another rather persistent character, throughout the book. Like other Dr. Seuss books, this title teaches simple and repetitive rhymes which are fun to read.

"Horton Hears a Who":

Seuss's story of an elephant who makes friends with a microscopic city of "Whos" on a tiny speck is a somewhat suspenseful one that has also made it to the big screen. "Horton Hears a Who" belongs to the family of more advanced Dr. Seuss books for older children.

"The Sneetches and Other Stories":

This collection of moral tales by Dr. Seuss includes several stories that feature the allegorical style which characterizes many Dr. Seuss books. The Sneetches learn a lesson in envy and acceptance, teaching kids the arbitrary differences between social groups with Seuss's instantly recognizable writing style. These stories will fit in with other Dr. Seuss books aimed at older children.

"How the Grinch Stole Christmas":

Some Dr. Seuss books are better known for their animated counterparts, the story of the Grinch possibly being the best example. The animated cartoon is still shown worldwide during the holiday season, but the illustrations of this children's book are iconic on their own, following the whimsical cartoon style that makes Dr. Seuss books so popular.