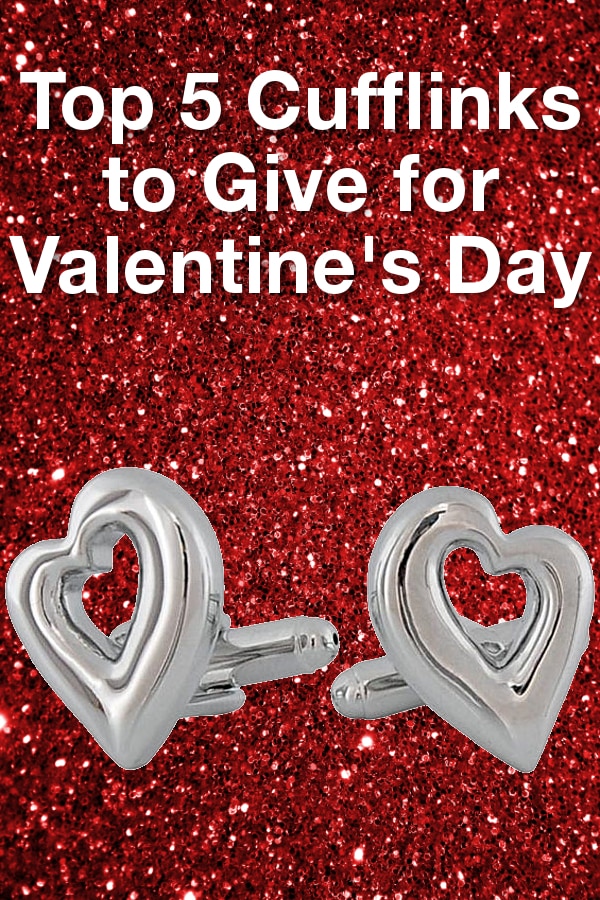 SHOP CUFF LINKS NOW >>
Surprise your well-dressed man with a new pair of cuff links this Valentine's Day. Cuff links are the perfect pieces of men's jewelry to give for Valentine's Day and other romantic holidays. He'll think of you when he glances at them during an important business meeting or formal event. If he has surprised you with baubles in the past, then return the favor with a thoughtful gift for him. Consider one of these styles when you're shopping for the perfect gift.
Cufflinks for Valentine's Day:

Gemstones: Gemstones make any piece of jewelry special. Cufflinks with diamonds, quartz, turquoise, emeralds, and rubies make a fantastic Valentine's Day gift. These gemstone cufflinks will add just a bit of sparkle to a business ensemble, but this men's jewelry choice also looks great with his best black-tie outfit.

Gold: Gold is the standard for jewelry, making it the perfect choice for any Valentine's Day gift. Yellow gold and white gold are both great options when shopping for gifts for him. Yellow gold cufflinks are incredibly handsome, and they offer a classic look. White gold cufflinks are more modern, and they go with everything from his navy blue suit to his favorite pin-striped trousers. Rose gold is a unique option for men. This pink-toned gold looks great with yellow, blue, and grey ensembles.

Silver: Sterling silver cufflinks feature the popular, modern silver hue, but they are more affordable than white gold cufflinks. Sterling silver is often sculpted into interesting designs; these cuff links add a lot of texture to an outfit.

Novelty shapes: To show your husband or boyfriend how much you appreciate his individuality, give him novelty cufflinks this Valentine's Day. Cufflinks made of working compasses and clocks look great and are also functional. Cufflinks shaped like cocktails, animals, eight balls, playing cards, and skulls make playful gifts.

Photo: Photo frame cufflinks allow your man to really personalize a black-tie ensemble. Put your photo in the tiny frames or leave them empty and let him choose his favorite pictures. Photo cufflinks can match or feature different photos.

Shop Cufflinks
Shop Valentine's Day Gifts
Find the Perfect Gift in Our Gift Center
See All Guides
Read More Holiday & Giving Guides
Get More Valentine's Day Gift Ideas
Published January 5, 2011
Updated December 31, 2014