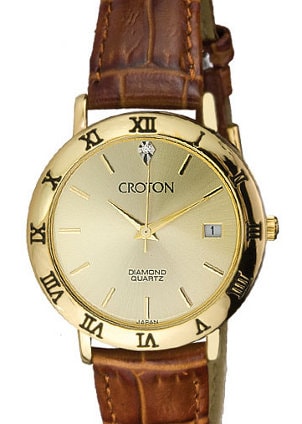 If you are looking for a luxury Swiss watch, but you don't want to spend a small fortune on a women's or men's watch, then Croton watches are for you. Shopping for a watch isn't difficult, and Croton makes it easy with a wide selection of men's and ladies watches with style and Swiss manufacturing. To learn a bit more about the Croton brand and decide which Croton watch will be the perfect start to your Swiss watch collection, check out our top five Croton watch models.
Croton Watch Styles:

The Reliance: The Croton Reliance watch is incredibly fun and bright. The sport watch features a vivid yellow rubber watchband, a happy yellow dial, a date window and a combination of standard numbers and Roman numerals. Wear your Croton Reliance watch with jeans on the weekend or allow your bright Reliance to add color to a workday suit.

The Famous Look: The Croton Famous Look is available in both men's watches and ladies' watches. The Famous Look Croton watch is plated with 23-karat gold, which is nearly pure gold. You will truly feel like a celebrity when you wear the Famous Look, with its authentic 12 o'clock-position diamond, simplistic champagne-hued dial and shiny gold watch bracelet. You can wear your Famous Look watch daily with anything you own.

The Diver: The Croton Diver watch comes in several colors and styles so you can choose the one that will fit into your wardrobe. Choose from Diver watches with black or blue dials. The Diver has a variety of bezel choices, including a solid blue, a solid black, a two-tone black and red and a two-tone blue and red. The Professional Diver Croton watch has a chronograph and three subdials. Diver watches from Croton have a water-resistance rating of 660 feet.

The Manhattan: The Manhattan watch by Croton is a popular watch for both men and women. Manhattan Croton watches come in many different styles, including men's dual-time watches, women's bracelet watches, women's geometric watches, watches covered in crystals and lightweight aluminum timepieces with brown, white or black watchbands. Manhattan watches by Croton are also often very affordable while still being luxury timepieces.

Nina Raye: Nina Raye is an independent brand that manufacturers luxury handbags and also contributes to the Croton family of watches. Nina Raye Croton watches are beautiful women's timepieces. Choose from Nina Raye watches covered in crystals and gemstones. Nina Raye fashion watches project luxury and allow you to indulge in opulence without breaking your budget.

Buy Croton Watches
Back to Guides Directory