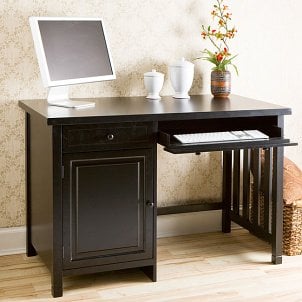 When furnishing your home office space, you need to create a comfortable work area that helps you stay productive and organized. Since your computer desk is likely to be the focal point of your home office space, you need certain storage features and shelving units to accommodate files and office supplies. Choose a design that will accommodate the space you have available. Below, you'll find the top 5 computer desks for homes.
The Top 5 Computer Desks:

Corner computer desk: Corner computer desks feature space-saving designs that typically have features such as overhead shelving units, concealed filing cabinets and keyboard trays. Corner computer desks can open up the floor plan of a small office space while still providing easy access to all office supplies and hardware. This style of office desk is available in modular and traditional designs to complement most styles and themes.

Computer desk with a hutch: If you need lots of storage space but don't have room to add lots of filing cabinets, bookshelves or a set of drawers to the office area, a computer desk with a hutch may be the best fit. These types of computer desks are designed with large, enclosed shelving units and can store files, books and office supplies. Their hutches can be opened or closed to hide materials from view and create a neater, more organized space for small areas.

L-shaped computer desk: L-shaped computer desks may be designed with drawers, overhead compartments and pull-out trays to accommodate for keyboards and supplies. These desks are a space-saving solution for rooms with limited space because they add an element of privacy while providing easy access to office supplies and equipment.

U-shaped computer desk: If you have a relatively large work space or office area, the U-shaped computer desk may be the best fit for your home. U-shaped computer desks are typically designed to accommodate guests, are large enough to share with another person and may feature drawers, shelves, pull-out keyboard trays and overhead storage space. These desks also help to create a more private office area.

Glass computer desk: A good match for the modern and contemporary home office, the glass computer desk is designed with a silver frame and can add a futuristic feel to a room. Types of glass computer desks include clear glass, black glass, blue glass and glass workstations with wood or leather trim. Some glass computer desks are designed with wheels, while others are built with wooden or steel frames.

Buy Computer Desks
Back to Guides Directory