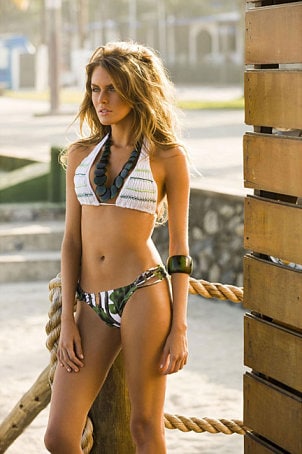 Whether you're headed to the local beach for the afternoon or taking the family on a seaside vacation, you'll want to make sure you're prepared for your time at the beach. Sunscreen is a must, as are a lounge chair and a good book. When you're packing your beach bag, don't forget to pack the clothing you'll need for a day amid the sand and waves. Here is a list of the top five beachwear items to take along.
Best Clothing for the Beach:

Swimwear: Whether sunbathing or surfing, you'll definitely want to wear a swimsuit to the beach. There are plenty of styles of swimsuit to choose from, too. A cute bikini is a great way to show off your style and soak up the sun. If you're planning on playing hard, a sporty one-piece suit is a great choice for surfing and beach volleyball. If you want a bit more coverage, choose a suit with a swim skirt or boy shorts for your day at the beach.

Cover-up: Take a break from the waves and throw on a cute cover-up. Whether you choose a classic sarong, a lightweight tunic or a beachy dress, a cover-up helps you keep your beach-ready look without being stuck in just a swimsuit all day. Look for something lightweight and breathable to keep you cool under the sun while you stroll along the beach or pause for a lunchtime picnic.

Sandals: The sand on the beach can get hot, so you'll want a pair of sandals with you to protect your feet; even a simple pair of flip-flops will do. Sandals are an easy choice for the beach because they're easy to slip on and off, and sand won't get stuck inside. You can even find sandals to wear in the water. Look for pairs that are waterproof and have buckles or straps behind the heels to keep them from slipping off and floating away.

Sun hat: Being out in the sun all day can be harmful for your skin and eyesight. Keep UV rays off your face and out of your eyes with a sun hat. A hat in a lightweight fabric or straw design will give you shade without trapping in heat. The wider the brim of your hat, the more protection you'll get, but a straw fedora is a trendy way to keep the sun at bay.

Jacket: When you head to the beach, you should be prepared for more than just the sun and spray. Take along a light jacket in case of wind and rain. If you're planning on staying at the beach into the evening or having a beachside bonfire, you'll want a slightly heavier jacket to keep you warm once the sun goes down.

Buy Swimwear
Back to Guides Directory