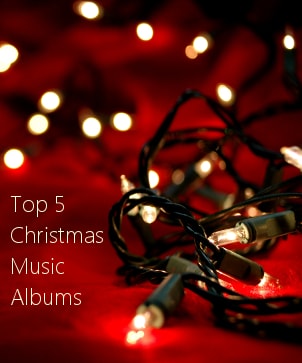 There is simply too much incredible Christmas music to declare just five as the best of all time, and varying musical tastes would probably nominate different holiday albums for this list. However, there is just no debating that the following classic Christmas music has stood the test of time and will probably be perfect for invoking the Christmas spirit at your next holiday gathering.
Classic Christmas Music:

The Christmas Song by Nat King Cole: He simply has one of those rich voices that creates a warm, fireside feeling just by singing traditional Christmas music, as well as popular holiday standards. This Christmas CD is titled after one of Cole's most recognizable performances, though it's more commonly referred to as "Chestnuts Roasting on an Open Fire." It's safe to say that no Christmas music collection is complete without Nat King Cole.

White Christmas original soundtrack: From the golden era of mid-Twentieth Century musicals, White Christmas embedded the work of Irving Berlin into the hearts of a generation, making the music and the film instant holiday classics. The performances of Bing Crosby, Danny Kaye, Vera-Ellen, and Rosemary Clooney are forever tied to these Christmas songs as originals. The film, and the Christmas music that made it unforgettable, are still a holiday tradition for millions.

When My Heart Finds Christmas by Harry Connick Jr.: He helped spring a revival of big band swing music, and in 1993, he released a hit album of Christmas music that was reminiscent of the classic Christmas albums by the likes of Nat King Cole and Dean Martin. His versions of old favorites like "Rudolph the Red-Nosed Reindeer" and "O Holy Night" didn't just duplicate an old style, but gave a new life to old songs.

Nightmare before Christmas original soundtrack: This entry doesn't quite fit the mold that most Christmas music albums are made from, but it is wildly popular nonetheless. Tim Burton's creepy, stop-motion animated Halloween musical is paradoxically appropriate for a holiday music album. The music, by composer Danny Elfman, provides a whimsical musical theme to the storyline that is both sardonic and sweet in its examination of holiday spirit.

Merry Christmas by Mariah Carey: One of the most popular Christmas music collections of the 1990s, Mariah Carey's holiday music collection of both traditional songs and upbeat songs became Christmas music standards. This album is definitely a standout among the host of Christmas albums recorded and released each year.
What Do You Want to Do Next?

Shop Christmas Music on CD
Shop Christmas Music on Vinyl
Shop All Christmas Music
See All Guides
Read More Entertainment Guides
Learn More about Music