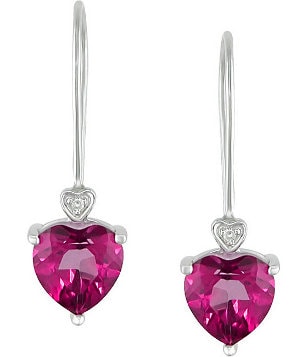 Sapphires are commonly known for their deep blue hues, but pink sapphires are also incredible. The sapphire is one of the precious gemstones, along with the diamond, the emerald and the ruby. Pink sapphire earrings match summer sunsets and holiday lights, giving you the perfect pair of earrings to wear all year. Pink earrings lend a touch of femininity to a neutral suit or dress, but pink sapphire earrings are never too sweet or too bold. Pink sapphire jewelry is very youthful, but it is also valuable and long-lasting. Indulge in one of these fantastic pairs of pink earrings with gorgeous pink sapphire gems.
Charming Pink Sapphire Earrings:

Heart-shaped studs: When shopping for pretty pink earring studs, consider the pink sapphire jewelry category. Petite studs with sapphire gems will light up your face with their glowing brilliance. Heart-shaped studs are especially romantic and will make a fantastic gift. Consider heart-shaped gemstone pink earrings for their incredible versatility.

White gold hoops: Hoop earrings are often plain and simple, but white gold hoops with pink sapphire embellishments are very fun and flirty. Hoops have always been a youthful jewelry choice, and pink gems only make them more vibrant. Pink earrings in hoop form will go with everything in your closet.

Diamond earrings: If you are looking for a pair of pink earrings that gives you the hues you love and the extravagance you desire, consider pink sapphire and diamond earrings. In stud styles, diamonds and sapphires may form flowers or geometric patterns. Drop earrings and chandelier earrings with swinging pink sapphires and large matching diamonds are very luxurious.

Elegant drop earrings: Drop earrings are always a good staple in any jewelry collection. They can be worn with so many different outfits to create a demure look or a flashy style. Sapphire drop earrings often incorporate other gems and a variety of designs to instantly update your jewelry wardrobe.

Extravagant chandelier earrings: Chandelier earrings are truly the most luxurious jewelry indulgence, especially when they are crafted of gold or platinum and covered in vibrant gems. Chandelier-style pink earrings are as extravagant as jewelry can be. Many pairs of sapphire chandelier earrings incorporate stones in various lovely hues.

Buy Pink Sapphire Earrings
Back to Guides Directory