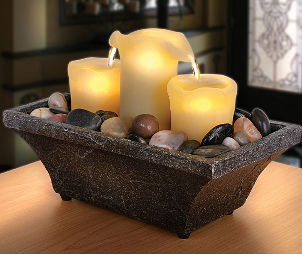 Creating a gorgeous centerpiece that will leave your guests amazed by your sense of style and design is a challenging, exciting task. Whether you plan a large-scale event in a banquet hall with fresh flowers or a simple cocktail party with colorful crafts at home, make sure your plans include a table centerpiece that features the party's theme and adds to the room's ambiance. Though the possibilities are endless, using centerpiece ideas from this list is sure to inspire a style statement.
Creating Decorative Centerpieces:

Time to glow. Use candles to create a beautiful centerpiece, either formal or casual. For an elegant candle centerpiece, use tall tapers in crystal candlestick holders, which evoke a traditional feel. For low-key gatherings, use lots of tea lights or a grouping of large pillar candles in varying heights to create a fun candle centerpiece. Place the candles on a silver or wooden tray to protect the table and add a unifying element to the individual candles for unique centerpieces. Avoid using scented candles if the centerpiece will be on a table during mealtime, since the fragrance can detract from the aromas and flavors of the food.

In full bloom. Flowers are always popular as a table centerpiece. Whether you use long-stemmed roses in a sparkling cut-glass vase or float single exotic blossoms in low vessels of water, a flower centerpiece adds a touch of class to any event. If you like to push the envelope when it comes to decorating ideas, immerse your favorite flower in a tall, simple vase full of water for a stunning flower centerpiece. The water sharpens the details of the flower, and the look is modern and interesting. Create floral centerpieces that include skewered fruit and other details for a whimsical vibe.

Home for the holidays. A holiday centerpiece can be whimsical and thematic without seeming trite. Brightly colored Easter eggs are the perfect spring centerpieces, while patriotic flags and streamers light up a summer table. In the fall, a glass vase full of candy corn adds a playful touch to a meal, and you can showcase beautiful ornaments in a basket or narrow tray for fancy winter centerpiece ideas. Look through your holiday decorations for holiday centerpiece ideas.

It's natural. While floral centerpieces are usually perfectly manufactured, natural elements add beauty and charm to ordinary decor for unique centerpieces. Gather natural elements from your yard or favorite vacation spot to use at your next party. Pine cones, seashells, seed pods, gourds, dried beans and sea glass are easy to find. Display them in a favorite vessel or simply strew them along a solid table runner.

Blow things up. Not just for children's birthday parties, a balloon centerpiece makes the perfect addition for everything from weddings to corporate functions. Available in many rainbow colors, with nearly any design imaginable, balloons are inexpensive and cheerful. Tie-off balloons in a balloon centerpiece with wired ribbon or decorative wire garland for a respite from the traditional curling ribbon. Spring centerpieces and other holiday decorations also benefit from colorful balloons.

Buy Fresh Flowers
Back to Guides Directory