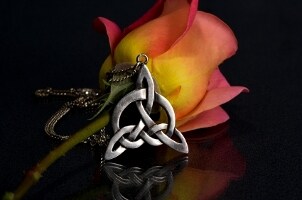 If you ever feel like all of your outfits are the same and that they look a little too much like those that your friends and co-workers wear, then it's time for some new jewelry. Unique jewelry selections, from necklaces to rings, transform your clothes by incorporating your personality. Celtic jewelry is romantic, unusual, rustic and eye-catching. Celtic necklaces come in a wide variety of styles and can be whimsical, meaningful, symbolic and mystical. You can add a Celtic necklace and other Irish jewelry to a long skirt and curve-hugging tank top for an outfit that you can wear from the farmer's market to your favorite nightclub. Consider our top five when shopping for Irish necklaces and other Celtic jewelry.
Celtic Necklaces for Every Occasion:

Claddagh: The Claddagh design is famous in Irish jewelry and culture. The classic Claddagh symbol showcases two hands holding a heart, which is topped with a crown. Though Claddagh rings are the most traditional way to wear this design, Claddagh necklaces are also available. Gold, silver and bronze Claddagh Irish necklaces are beautiful, and many of them incorporate gemstones or diamonds.

Celtic knot: Many Celtic knot designs were created by ancient Irish cultures and have survived into modern times because they are symbolic and beautiful. Celtic knots have been carved into tombstones, stitched into quilts and used to decorate books for centuries. Many Celtic knot designs are symbols for eternity, and Celtic knot jewelry is romantic, culturally significant and stunning. Wear your Celtic knot necklace with a pretty spring dress or your favorite wide-leg trousers and a nice sweater.

Nature: Irish culture has strong ties to nature and animals. Many Irish necklaces incorporate drawings, carvings and designs of trees, flowers, cats and dragonflies. These beautiful, nature-inspired Celtic necklaces can connect you to the earth, even when you are stuck in a high-rise office building.

Pagan symbols: Ireland has a rich Pagan history that goes hand in hand with its appreciation for nature. Buy a Celtic necklace with a pentacle, Thor's hammer or celestial design to show off your love of your Pagan heritage or to keep your Pagan ideals close to your heart. Wear your Pagan Celtic necklace with your favorite jeans and a floral-print camisole.

Cross: Irish crosses offer a fun and interesting twist on the basic cross design. Irish crosses often incorporate Celtic knots, which offer additional symbolism and intricate beauty. Celtic cross necklaces come in many different sizes, styles and materials and are perfect for wearing every day or on special occasions. Try wearing an Irish cross pendant on a long chain and pairing it with trouser shorts and a breezy silk shirt.

Buy Necklaces
Back to Guides Directory